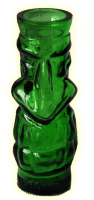 An incredible opportunity for a high quality "Keep the Glass" promotion! Voodoo Tiki announces the availability of hand crafted Mexican bubble glass shot glasses to retailers.
These highly desirable collectibles come in three colors, red, green and blue to match Voodoo Tiki Tequila Platinum (red), Reposado (green) and Anejo (blue).  These tiki shot glasses are the perfect opportunity to offer your customers specialty "Voodoo Tiki Tequila Flights."
Voodoo Tiki shot glasses are made in the same factory as our "Magic Bottles" (Watch this video to see how we craft each Voodoo Tiki Tequila Bottle.)  The shot glasses are highly prized collectibles, selling for $20 per set of six (6) on the Voodoo Tiki website.  This is an opportunity to offer your clients an opportunity to sample an ultra-premium product, and thank them for their business with these high quality keepsakes.
If you would like to utilize Voodoo Tiki shot glasses your your bar, nightclub or restaurant please email Donna@VoodooTiki.com or call 1-866-VOODOO-TIKI (1-866-388-8454.)
About Retailer Support
Voodoo Tiki Tequila makes every effort to support our trade partners.   However, due to laws which vary by region not all programs are available in all areas.  If you have questions regarding the availability of a specific promotional item or service in your area please call us at 1-VOODOO-TIKI, (1-866-366-8454.)