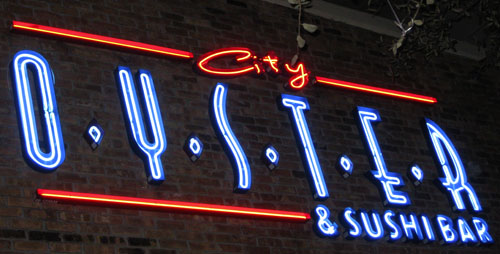 Delray Beach hot spot City Oyster has added the line of Voodoo Tiki craft tequila to their extensive spirits collection.
City Oyster is a modern American seafood restaurant that offers the freshest seafood served within steps of the action on Delray's popular Atlantic Avenue.  The seafood at city oyster arrives from local purveyors and from fisheries n the northeast.  The seafood is flown in each morning and filleted in City Oysters Kitchen.  The huge silver framed chalkboard in the dining room alerts guests to the daily Oyster selection, while the servers at City Oyster inform guests of the other seafood specials and their preparation.  Steak and pasta dishes are offered, as well as an extensive dessert selection.

Specialty Voodoo Tiki Cocktails and "Infused Margaritas" will be available.  Starting this week, City Oyster guests can order a Voodoo Tiki Tequila Mar-Tiki® featuring muddled orange and lime, or the world famous Desert Rose Prickly Pear Margarita featuring Voodoo Tiki Desert Rose Prickly Pear infused tequila.
Every bottle of Voodoo Tiki Tequila comes packages in a handcrafted artesian bottle with an actual Voodoo Tiki Idol inside.
Voodoo Tiki Tequila is made in small batches, with the finest ingredients in a process that results in an award winning taste profile with very little heat or bite.  Voodoo Tiki tequilas feature notes of sweet agave, vanilla, caramel, butterscotch, dark chocolate, and brandy, without the burn or rough finish which is synonymous with other tequilas.  100% Blue Agave Voodoo Tiki crafted tequilas, Platinum Voodoo Tiki maintains the herbal sweet taste of the mature agave with a light pear finish. Voodoo Tiki Reposado is carefully and lightly aged for up to one year resulting in a sweet vanilla like taste with a light brandy finish. Añejo is aged a minimum of one year resulting in a caramel, butterscotch and dark chocolate with soft cognac style taste and finish.  The exclusive Voodoo Tiki Desert Rose Prickly Pear infused tequila.  The World's first and only prickly pear infused tequila, used to make the current "It" cocktail, the prickly pear margarita.
In the heart of Delray's shopping district, City Oyster's casual yet very classy elements make City Oyster a favorite meeting place for lunch, dinner or a drink at the bar.  The energy of the avenue and activity of the bar makes City Oyster a great meeting place to start your night or to finish the evening.  The dining room provides great views of bustling Atlantic Avenue, as well as the Grand Bar that runs the length of the restaurant.  The high ceilings compliment the antique brick walls, bright paintings and soft lighting.
City Oyster is located at 213 E Atlantic Avenue, Delray Beach Florida.  For information or reservations call 561-272-0220.
About Voodoo Tiki® Tequila
Voodoo Tiki Tequila is a small batch boutique tequila company which produces 100% blue agave, all natural ultra-premium traditional and infused tequilas in artisan glass. Careful agave selection, slow cooking, fermentation, distillation processes lead to the sweet, "No Burn" profile that has become the Voodoo Tiki trademark tequila experience. Voodoo Tiki Tequilas are available in 11 states and 7 countries and are sold exclusively in select restaurant, bar, nightclub and off premise locations through the company's "Select Retailer" program. Retailers that would like to carry Voodoo Tiki Tequilas should call 1-Voodoo-Tiki (1-866-366-8454).