What's in a name? That which we call a Desert Rose by any other name would taste as sweet.
That's royal old guy for, "The cocktail name is not what's important, it's the taste that matters."
We couldn't agree more.  Voodoo Tiki Tequila Desert Rose Prickly Pear Margaritas enjoy quite a few aliases, so be on the lookout in your favorite restaurant, bar or nightclub.
The Panty Dropper
It started innocently enough.  At a holiday trade show in 2008 a convention guest of the fairer sex tasted a Voodoo Tiki Tequila® Desert Rose® Prickly Pear Margarita.  She licked her lips and remarked with wide eyes, "I better be careful with these or I'm likely to lose my panties!" The unexpected, and hysterical remark caught fire at that show as future tribe members came by in droves asking, "Can I try that Panty Dropper."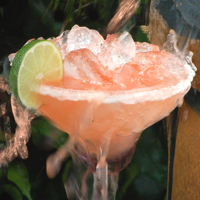 The Cactus Flower
In Texas prickly pear fruits are called "Cactus Pears", and in season the bright pink color gives the appearance that the cactus paddle has "Flower"-ed.
The Desert Rose
Many people think tequila is "Cactus Juice."  The prickly pears that grow on the cacti are bright pink, sometimes red and often have a look like a rose that has yet to bloom.  Combine that with a hit single by Sting, "Desert Rose", and Voodoo Tiki Desert Rose Infused Tequila, and you have the term Desert Rose on a lot of Mixologists minds when their writing up their cocktail menus.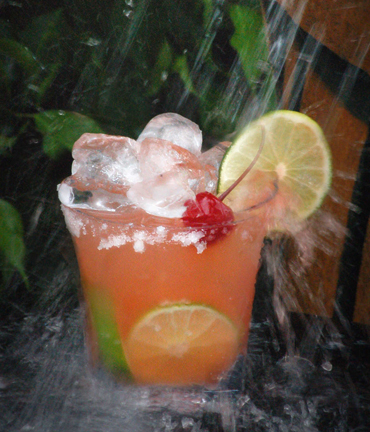 Opuntia Punch
In Mexico prickly pears are known as "Opuntia", and Opuntia Punch is not only fun to say.  Plus the red resembles another red hue cocktail with the letter "P" alliteration, Planters Punch – the perennial rum favorite.
The Prickly Pear Margarita
The old faithful!  Made with Infused Tequila!  No matter what you call it, make sure you avoid Prickly Pear Margaritas made with sugar syrups, or prickly pear juice.  Heavy juices and sugar laden syrups nearly spelled certain death for the Prickly Pear Margarita.  Long Live the Prickly Pear!  Use only Prickly Pear Infused tequila like Voodoo Tiki Desert Rose Prickly Pear Infused Tequila get more information at www.Voodootiki.com.
Here's the Classic Recipe.  Just please, stop sending us your panties.
Voodoo Tiki Prickly Pear Margarita
2.5 oz Voodoo Tiki Desert Rose Prickly Pear Infused Tequila
½ oz Triple Sec
2.5 oz Fresh Sour Mix
¼  Fresh Lime
Dash of Grenadine
Shake well with ice and serve on the rocks or strain into martini glass (what Voodoo Tiki calls, "Martiki style") with a salt or sugar rim.  Garnish with a lime wheel or wedge.  Drink repeat . . .hold onto your panties.
About Voodoo Tiki Tequila
Voodoo Tiki offers ultra-premium traditional & infused tequilas made from 100% Blue Agave. Voodoo Tiki Tequilas are sold exclusively in select restaurant, bar, nightclub and off premise locations through the company's "Select Retailer" program.  Retailers that would like to carry Voodoo Tiki Tequilas should call 1-Voodoo-Tiki (866-366-8454).  Press inquiries should be directed to Press@VoodooTiki.com.   Please visit our website at www.VoodooTiki.com