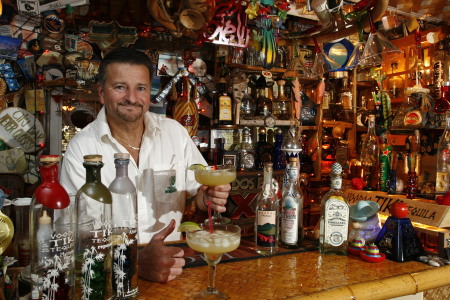 The most exclusive tiki bar in Tampa Bay boasts a hand-picked menu of some 200 tequilas and mezcals, including many fine and rare styles. The margaritas are made with fresh-squeezed fruit juice and top-shelf, 100 percent blue agave tequila.
There's a pool just steps from the door, and they're talking about building a swim-up bar. On UFC fight nights, the parties are epic. And there's absolutely no cover.
But if you want to get in, you have to know the owner.
That's because this bar is located in Jim Lannon's backyard.
Over the past six years, Lannon has converted his deck and pool area into an astonishingly detailed tiki bar — bamboo, tiki sculptures, kitschy island artwork, sports memorabilia, beer and tequila signs, even a TV above the bar. The quarters are tight, but inside, the effect is immaculate: "Jim's Tequila Bar" feels like a hangout in Cancun or Cozumel, not an unremarkable Pinellas Park cul-de-sac.
"The tequila bar keeps me out of trouble," said Lannon, 54, a trainer at Lifestyle Family Fitness in St. Petersburg. "I can do whatever I want to do, have a couple of drinks, never have to get behind the wheel of a car, and go to my bedroom."
"And I know where he is all the time," added his wife, Lori.
Jim and Lori moved to Pinellas County from the Jersey Shore seven years ago, craving warmer weather and a beachy lifestyle. They have two children, 25 and 19, both out of the home. The tiki bar is their baby now.
It began with the purchase of a $500 bamboo bar from a dealer in California, and has expanded every day since, with Lannon doing his own design, construction and artwork. He buys funky decor and supplies from thrift shops and junk stores, and tacks it up wherever it'll fit. There are autographs from sports stars like Walt Frazier and Mike Alstott, souvenirs from Caribbean vacations and family photos.
But the bar's specialty is tequila.
Lannon, a former chef in New Jersey, is a walking tequila encyclopedia, and his tequila menu — yes, his bar has a menu — might best any local restaurant's. Recently, he stopped into Red Mesa Cantina in St. Petersburg and spent an hour at the bar, talking tequila with the bartender.
They had only one style he'd never tried.
He estimates his tequila collection is worth between $3,000 and $4,000 — but is quick to point out that many bottles were gifts, and that just because a tequila is expensive doesn't make it good.
If you ask for Patron, he'll serve it, but not before offering you a sip of the good stuff first — Casa Noble, Fortaleza, El Tesoro white label or his standard margarita tequila, Voodoo Tiki.
Oh, and no shots. Shots are for coeds. Real men and women sip their tequila, like Scotch.
When the Lannons host parties, their friends drink free, though some bring bottles of tequila for Jim's collection. At his 50th birthday party, Lannon brought a bartender friend to help make margaritas for the 70 or so guests.
But even then, he couldn't stay out from behind the bar.
"I have a motto: The tequila bar is always open," he said. "It never closes."
Jim's Voodoo Tiki Margarita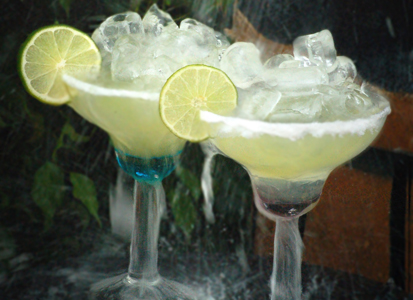 2.5 ounces blanco or reposado tequila (100 percent agave only; Lannon uses Voodoo Tiki for this recipe)
2 ounces fresh squeezed lime juice
1 ounce fresh squeezed orange juice
1 ounce organic raw light agave nectar (adjust to taste)
Ice
Salt or sugar (for rim)
1 lime wedge (for garnish)
Fill a shaker halfway with ice, then add tequila, lime juice, orange juice and agave nectar, and shake vigorously. Pour contents (including ice) into salt- or sugar-rimmed margarita glass. Garnish with lime wedge.
For a bulk recipe: Combine 3 cups fresh squeezed lime juice, 1 cup fresh squeezed orange juice, 2 cups spring water and 8 to 12 ounces of light agave nectar. Shake well and refrigerate at least 4 hours. To make individual drinks, fill a shaker halfway with ice, add 2.5 ounces of 100 percent agave tequila, add margarita mix and shake. Pour into salt- or sugar-rimmed margarita glasses. Garnish with lime wedge. Makes 2 quarts.
Source: Jim Lannon