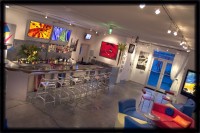 Voodoo Tiki® Tequila and Kevro's Art Bar are partnering to bring Voodoo Tiki Ultra Premium traditional and infused tequilas to world famous Downtown Delray at the Corner of Art and Imagination.  Kevro's Art Bar will be offering iconic beverages including house specialty cocktails and the world famous "Desert Rose Prickly Pear Margarita." Kevro's Art Bar is located at 166 SE 2nd Avenue, Downtown Delray.
In 1999 Kevin Rouse established hi gallery and digital imaging studio in Downtwon Delray Beach.  In 2006 after renting space for seven years Kevin purchased and revitalized a blighted commercial property creating Kevro's Art Bar, an artist owned bar, art space and media studio.  Offering a "Meeting Place for the Creative Class." Kevro's is the first of its' kind in Palm Beach County.  Kevro's Art Bar is a full liquor bar, art space and gallery; it's a studio, but it's not just a place; it's your place, an oasis in a world gone mad.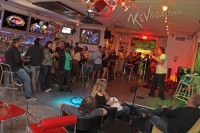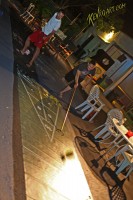 Specialty Voodoo Tiki Cocktails and "Infused Margaritas" will be available.  Starting this week, 166 SE 2nd Avenue, Delray Beach guests can order a Voodoo Tiki Tequila® Prickly Pear Margarita featuring infused tequila before settling in for a performance art show, live entertainment or open mic night.
The move by the Florida-based Voodoo Tiki of America brings the award winning, boutique tequila to a creativity and imagination nightspot Mecca.  Voodoo Tiki Masterpiece Tequila is made in small batches, with the finest ingredients in a process that results in an award winning taste profile with very little heat or bite.  Voodoo Tiki tequilas feature notes of sweet agave, vanilla, caramel, butterscotch, dark chocolate and brandy, without the burn or rough finish which is synonymous with other tequilas.  The company adds only 300 new retailers per year, and is now accepting applications for the 2012 Selective Retailers Program.  Interested parties should call 1-Voodoo-Tiki.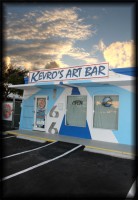 Kevro's Art Bar will feature the exclusive Voodoo Tiki Desert Rose Prickly Pear infused tequila.  The World's first and only prickly pear infused tequila, used to make the current "It" cocktail, the prickly pear margarita.
"Kevro's Art Bar shares our passion for the creative process.", said Jennifer Serle, Voodoo Tiki V.P of Marketing & New Media.  "We love being a part of Kevro's spirits collection as each of our Magic Bottles is a unique work of art."
Kevro's Art Bar  Lounge is committed to supporting local artists and local community programs. Open Wednesday through Sundays guests can play ping pong, build super jenga, enjoy public art murals, watch art films, listen to good music, relax outside on lounge chairs, and dream out loud. Kevro's Art Bar  is open to the Public. Not-so out of the way but very out of the ordinary, Kevro Art Bar is located at 166 SE 2nd Avenue, Delray Beach,FL 33444-3618 US.  Visit them online at http://www.kevroart.com/
About Voodoo Tiki® Tequila
Voodoo Tiki Tequila is a small batch boutique tequila company which produces 100% blue agave, all natural ultra-premium traditional and infused tequilas in artisan glass. Careful agave selection, slow cooking, fermentation, distillation processes lead to the sweet, "No Burn" profile that has become the Voodoo Tiki trademark tequila experience. Voodoo Tiki Tequilas are available in 11 states and 7 countries and are sold exclusively in select restaurant, bar, nightclub and off premise locations through the company's "Select Retailer" program. Retailers that would like to carry Voodoo Tiki Tequilas should call 1-Voodoo-Tiki (1-866-366-8454) for an application. Press inquiries should be directed to Press@VoodooTiki.com. Fans visit www.VoodooTiki.com to get Free Official Voodoo Tiki merchandise by mail.