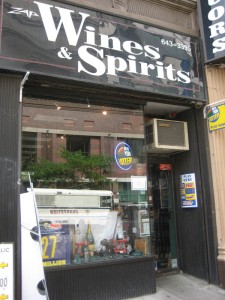 Zap Wines & Spirits has received a very limited selection of rare, craft Voodoo Tiki Tequila, including a number of bottles that feature hand signed, "Magic Words" on the back.  At least two bottles have been confirmed to feature unique "one-of-a-kind" collectable magic words on the reverse, rare 1/1000 collectables.
With spaciously wide aisles wide enough to accommodate a drunken stagger Zap Wines & Spirits is the classic neighborhood liquor store presenting the consumer with a wide array of choices including an interesting selection of wine and spirits hand picked by the experienced and wine educated Zap management team.  The staff at Zap was surprised to find two bottles on their recent delivery were extremely rare and collectable.
Voodoo Tiki Tequila bottles carry a "Magic Word" on the verso.  According to the Voodoo Tiki Legend, a hold over from a time before the Magical Voodoo Idols were lost to time and antiquity.  Magic words come in the denominations, Common, Uncommon, Rare and Unique, with the unique words handwritten and appearing as little as a single time before being retired.  Bottles with handwritten words have turned up on auction sites for nearly $150 empty, and over $500 with the contents intact.
The company adds only 300 new retailers each year to their Selective Retailers program.  Interested retailers should call 1-Voodoo-Tiki.

Voodoo Tiki Tequila is made in small batches, with the finest ingredients in a process that results in an award winning taste profile with very little heat or bite.  Voodoo Tiki tequilas feature notes of sweet agave, vanilla, caramel, butterscotch, dark chocolate, and brandy, without the burn or rough finish which is synonymous with other tequilas.  100% Blue Agave Voodoo Tiki crafted tequilas, Platinum Voodoo Tiki maintains the herbal sweet taste of the mature agave with a light pear finish. Voodoo Tiki Reposado is carefully and lightly aged for up to one year resulting in a sweet vanilla like taste with a light brandy finish. Añejo is aged a minimum of one year resulting in a caramel, butterscotch and dark chocolate with soft cognac style taste and finish.  The exclusive Voodoo Tiki Desert Rose Prickly Pear infused tequila.  The World's first and only prickly pear infused tequila, used to make the current "It" cocktail, the prickly pear margarita.
Zap Wine and Liquors is located at 105 Court Street, Brooklyn, NY, 11201.  Visit them online at http://www.zapwine.com/ or call 718-643-3395.
About Voodoo Tiki® Tequila
Voodoo Tiki Tequila is a small batch boutique tequila company which produces 100% blue agave, all natural ultra-premium traditional and infused tequilas in artisan glass. Careful agave selection, slow cooking, fermentation, distillation processes lead to the sweet, "No Burn" profile that has become the Voodoo Tiki trademark tequila experience. Voodoo Tiki Tequilas are available in 11 states and 7 countries and are sold exclusively in select restaurant, bar, nightclub and off premise locations through the company's "Select Retailer" program. Retailers that would like to carry Voodoo Tiki Tequilas should call 1-Voodoo-Tiki (1-866-366-8454) for an application. Press inquiries should be directed to Press@VoodooTiki.com. Fans visit www.VoodooTiki.com to get Free Official Voodoo Tiki Tequila merchandise by mail.