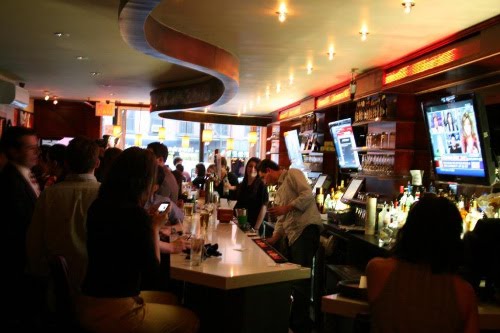 New York City July 17, 2011  The Exchange bar & Grill and Voodoo Tiki Tequila are partnering to bring Voodoo Tiki Tequila® including their ultra premium and infused tequilas to the swank new gramercy hot spot.
Starting this week, Exchange patrons can order a  Desert Rose Prickly Pear Margarita – the sexy "It" cocktail that forced Voodoo Tiki to ask female tequila aficionado's to "Please Stop Sending Us Your Panties."  The flirty sexy and fun ultra premium brand that boasts numerous awards for quality is the perfect addition to the trendy, yet casual Exchange.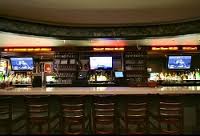 Voodoo Tiki Tequila is boutique brand of ultra premium traditional and infused tequila.  The company's newest exciting feature is Voodoo Tiki Desert Rose Prickly Pear Infused tequila, which is used to make their signature Prickly Pear Margarita.  All Voodoo Tiki Tequila is 100% blue agave and all natural with no additives, preservatives or artificial color.  The award winning and highly rated product is very limited in production.  Due to the limited nature of true craft tequila, and to ensure availability to existing accounts, the company adds only a select 300 new retail accounts per year.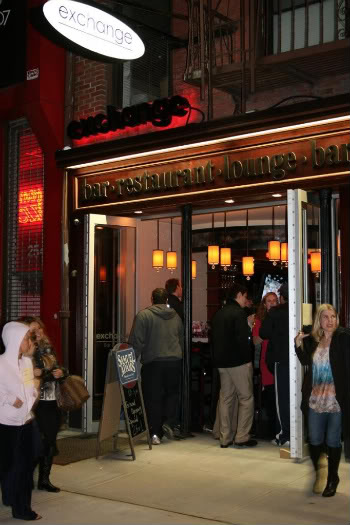 Every night The Exchange caters to a boisterous crowd of suits and sexy singles with loads of flat screens, and an ingenious concept that fluctuates cocktail prices in 25 cent increments based on supply and demand. Prices slide across a ticker that hangs over the bar. (So, if everyone at the bar is ordering Voodoo Tiki, expect to pay a prettier penny, while the prices for unpopular drinks drop).   It's like "Boiler Room" taking at the 35-foot bar.  Those wanting an escape from the stress of the boiler bar can head to the back. Where there's a small seating area to enjoy bistro classics. Exchange also features a daily happy hour. From noon to 7 p.m., beers go for $3 and well drinks are $5.  Beers on tap- Blue Moon, Stella, Guinness and Magners were some of the options. I was in a wine mood so I got a glass of Chardonnay instead.
"We love the people at theExchange and how they support and feature Voodoo Tiki Tequila" stated Jennifer Serle, Voodoo Tiki VP Corporate Communications. "It's a pleasure to work with a team, that understands the value of quality service, products and innovation.  We look forward to a long term relationship and to share in their creativity."
The Exchange Bar & Grill is located at 256 3rd Avenue (Between 20th and 21st Street) in NYC, NY.  Call them at (646) 596-9039.  Follow them on Twitter at /exchangeBarNYC and be their friend on facebook at http://www.facebook.com/ExchangeBarandGrill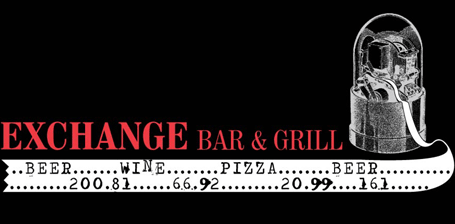 About Voodoo Tiki Tequila
Voodoo Tiki Tequila is a small batch boutique tequila company which produces 100% blue agave, all natural ultra-premium traditional and infused tequilas in artisan glass. Careful agave selection, slow cooking, fermentation, distillation processes lead to the sweet, "No Burn" profile that has become the Voodoo Tiki trademark tequila experience. Voodoo Tiki Tequilas are available in 11 states and 7 countries and are sold exclusively in select restaurant, bar, nightclub and off premise locations through the company's "Select Retailer" program. Retailers that would like to carry Voodoo Tiki Tequilas should call 1-Voodoo-Tiki (1-866-366-8454) for an application. Press inquiries should be directed to Press@VoodooTiki.com. Fans visit www.VoodooTiki.com to get your Free Official Voodoo Tiki Tequila TRIBE Dog Tags by mail. Follow Voodoo Tiki on twitter at /voodootiki