Business Card Shells.
CLICK HERE TO DOWNLOAD THE BUSINESS CARD SHELL AT 300DPI
All Cards must contain the Following:
the Voodoo Tiki Main Number and the translation as follows:
1-Voodoo-Tiki
(1-866-366-Tiki)
The Voodoo Tiki website with the V and the T in capital such as:
www.VoodooTiki.com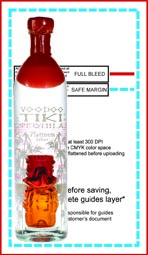 Trim and Safe Area  appear only on the low res example.  The copy you download will be a clean "Text Ready" shell.  It may appear that the bottle could have been made larger.  AS you can see from the example on your left, this is false.  The bottle is the Max Size that the safe area measurement would allow.
The original template was from staples.  Some online companies use "Non Standard" cut sizes, so the size may need minor adjusting on services such as Vista or Print Place.
ADD:
First Name Last Name
Title:
Cell Phone Number
Voodoo Tiki Numbers
Your email
Voodoo Tiki Website address