Voodoo Tiki Tequila claims the secret of their tequila is the power of the Voodoo Tiki, but what exactly does that mean?  What do "Voodoo" or "Tiki" have to do with tequila?
Of Course it's ultra premium – (I've heard that before.)  Sure it's made from the highest quality 100% Blue Agaves – isn't everybody these days?  Voodoo Tiki even use processes and equipment in their production that many "sacred cow" tequilas would never dream of spending the money on – such as a super-slow cooking process which produces a sweeter tequila.  They even claim that their tequila is aged in white oak barrels – rare, but I've even heard that one before, still why is there a "Tiki" in there?
Voodoo Tiki has a "Legend" (See the Animated version Here)  It goes something like this, their aging barrels were carved from the missing Voodoo Tikis that were lost centuries ago.  Somehow the wood carvings that many believed held magical powers turned up in Mexico where they were mistakenly used to make barrels. This leads to some people believing that "Tiki Magic" is infused in every bottle.   It also explains why there's a Mexican Bubble Glass Tiki inside every bottle, and why there's a "MAGIC WORD" on the back of every  bottle of Voodoo Tiki Tequila.  The "Magic Words" have fans turning around bottles and examining full end cap displays to the bewilderment of liquor retailers.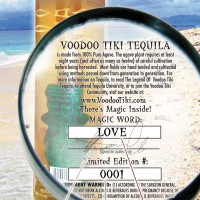 "We had a guy come in every day for two months turning around the bottles looking for magic Word Invisibility", said Joe Zemel of 67 Wines and Spirits which offers over 100 varieties of mezcals and tequilas.  "It's created a real chase, and a run on the product.  It's our top selling boutique brand of tequila since 2010."
The company reports that there are over 1,000 Magic Words, some are common, some uncommon some rare and some are one of a kind, used only once.  The company also ominously warns to be careful what you wish for, you just might get it.
In addition to magic words two other packaging elements are noticeable. Firstly, No two bottles are alike.  This is especially apparent in a large display such as at 67 Wine & Spirits where each bottle has a different lean, height and slight size and color variations of the tiki inside.  Voodoo Tiki Tequila VP of Manufacturing Julian McWatt said, "Our bottles are like snowflakes in that no two are identical.  Each is a unique work of art."
Secondly, the label is "hand-etched" into the glass, deep.  "People pick it up and interact with it for 2-3 minutes before they buy it", said Zemel.  "It's become a daily ritual in our tequila aisle, spinning around bottles and feeling etching.  It's bizarre, but people seem to love it."

The bottles are also "signed" and numbered.  The numbered bottles can be "registered" at the Voodoo Tiki Website.  All the bells and whistles make Voodoo Tiki Bottles seem like a hot commodity to customers, "Tequila fans regularly ask if they can keep the empty bottle", said Simon, a bartender at the Boca Raton Pub Lion & Eagle. "Sure!  Whoever orders the last shot owns it."
About Voodoo Tiki Tequila
Voodoo Tiki offers ultra-premium traditional & infused tequilas made from 100% Blue Agave. Voodoo Tiki Tequilas are sold exclusively in select restaurant, bar, nightclub and off premise locations through the company's "Select Retailer" program.  Retailers that would like to carry Voodoo Tiki Tequilas should call 1-Voodoo-Tiki (866-366-8454).  Press inquiries should be directed to Press@VoodooTiki.com.   Please visit our website at www.VoodooTiki.com