Voodoo Tiki® Tequila and Joe Forte's Seafood and Chop House are partnering to bring Voodoo Tiki Ultra Premium traditional and infused tequilas to world famous Thurlow Street, Vancouver. Joe Forte's Seafood and Chop House will be offering iconic beverages including house specialty cocktails and the world famous "Desert Rose Prickly Pear Margarita." Joe Forte's Seafood and Chop House is located at 777 Thurlow Street, Vancouver, BC.
One of Joe Forte's Seafood and Chop House many unique qualities is the immediate sense of character and personality that guests recognize the moment they step inside. The large, bright room feels instantly powerful yet inviting, and it's no coincidence that these qualities were also embodied by the legendary namesake – Seraphim "Joe" Fortes. In 1885, this burly seaman landed upon Vancouver's shores and settled into a cabin in English Bay. There, Joe quickly became one of Vancouver's most popular citizens, serving Vancouverites in a variety of ways – first as a bartender and later as Vancouver's first official lifeguard. Today, he is remembered by a monument near the site of his home, and his popularity lives on inside the welcoming walls of Joe Fortes Seafood & Chop House.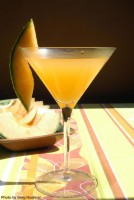 Specialty Voodoo Tiki Cocktails and "Infused Margaritas" will be available.  Starting this week, Joe Forte's Seafood and Chop House guests can order a Voodoo Tiki Tequila Mar-Tiki® featuring muddled orange, lime and artisan syrups before settling in for a meal to remember.
The move by the Florida-based Voodoo Tiki Tequila brings the award winning, boutique tequila to another key premium market location.  Voodoo Tiki Tequila is made in small batches, with the finest ingredients in a process that results in an award winning taste profile with very little heat or bite.  Voodoo Tiki tequilas feature notes of sweet agave, vanilla, caramel and brandy, without the burn or rough finish which is synonymous with other tequilas.  The company is adding a very limited number of retailers through 2012.
Joe Forte's Seafood and Chop House will feature four (4) Voodoo Tiki crafted tequilas, Platinum, Reposado, Anejo and the exclusive Voodoo Tiki Desert Rose Prickly Pear infused tequila.  The World's first and only prickly pear infused tequila, used to make the current "It" cocktail, the prickly pear margarita.
"Our partnership with Joe Forte's Seafood and Chop House gives us the opportunity to introduce Voodoo Tiki fans in a distinct gourmet dining experience", said Jennifer Serle, Voodoo Tiki V.P. of Marketing & New Media.
Joe Forte's Seafood and Chop House is located at 777 Thurlow Street, Vancouver, BC.  Phone – (604) 669-1940, for reservations.  Visist them online at http://www.joefortes.ca/menus/menus.php
About Voodoo Tiki® Tequila
Voodoo Tiki Tequila is a small batch boutique tequila company which produces 100% blue agave, all natural ultra-premium traditional and infused tequilas in artisan glass. Careful agave selection, slow cooking, fermentation, distillation processes lead to the sweet, "No Burn" profile that has become the Voodoo Tiki trademark tequila experience. Voodoo Tiki Tequilas are available in 11 states and 7 countries and are sold exclusively in select restaurant, bar, nightclub and off premise locations through the company's "Select Retailer" program. Retailers that would like to carry Voodoo Tiki Tequilas should call 1-Voodoo-Tiki (1-866-366-8454) for an application. Press inquiries should be directed to Press@VoodooTiki.com. Fans visit www.VoodooTiki.com to get your Free Official Voodoo Tiki Tequila TRIBE Dog Tags by mail.