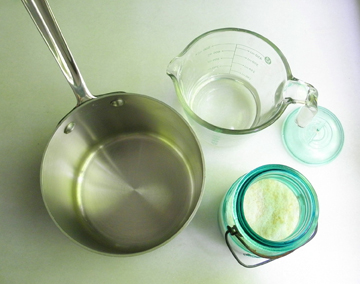 Simple syrup, also referred to as swizzle, sugar syrup or utilized as a replacement for "Gomme Syrup" is a versatile mixer used in many cocktails.  Swizzle is an essential item to stock in any bar, and is both simple and economical to make yourself.
Swizzle can be found in many mixed drinks including Mojitos, Daiquiris, Hurricanes and the popular Voodoo Tiki cocktail the Delores Park Swizzle.  Simple syrup is primarily used as a substitute for raw sugar and adds rich volume.
You can store your homemade simple syrup in the refrigerator in a well sealed bottle for up to 6 months.
Ingredients: (2:1 method) Most Commonly Called
2 cups sugar
1 cup boiling water
Preparation:
Remove the water from heat.  Measure one cup. Stir the sugar into the water while it is still hot and all sugar is dissolved.
If you're looking for vanilla simple syrup click here.
Would you like to receive Voodoo Tiki Mixology cocktail recipes, offers, invites, coupons and free swag by mail?  Join the Tribe now.