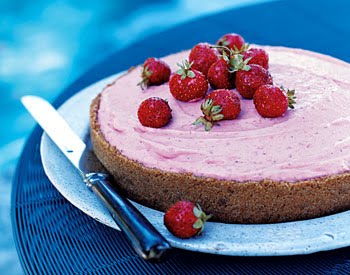 Voodoo Tiki Strawberry Margarita Pie

Tequila tastings don't have to include a lavish dinner party.  They come in all shapes in sizes, including an after dinner desert event featuring a flight of Voodoo Tiki Tequilas.
Here's a great dessert idea for a tequila tasting after dinner event.  Don't forget to download the Voodoo Tiki Margarita Mixology guide 100 Margaritas! for dozens of dessert cocktail recipes.
CRUST:
• 4 large egg whites
• 3/4 cup sugar
• 1 tablespoon lemon juice
• 1 teaspoon. vanilla
• 1/2 teaspoon almond extract
• 3 tablespoon flour
• 1/2 teaspoon baking powder
• 1 cup finely ground almonds
FILLING:
• 1 can sweetened condensed milk
• 1/4 cup fresh lime juice (1 lime)
• 3 tablespoons Voodoo Tiki Platinum Tequila
• 3 tablespoon Triple Sec
• 1/2 cup thawed frozen strawberries with syrup
• 2 cups heavy cream
CRUST:
Grease and flour a 9 inch springform pan. Beat egg whites until foamy. Gradually add sugar, beating until soft peaks form. Add lemon juice, vanilla and almond extracts; beat until stiff peaks form. Combine flour, baking powder and almonds. Fold gently into egg whites. Pour into prepared pan. Bake at 325 degrees for 35 minutes, or until crust pulls away from sides of pan.
FILLING:
Whip heavy cream. Beat milk, lime juice, Voodoo Tiki Platinum Tequila and Triple Sec for 3 minutes until smooth. Add strawberries; beat for 1 minute. Fold in whipped cream, reserving 1/4 cup for decoration. Pour into cooled crust in spring form pan. Freeze overnight. At serving time, decorate with reserved whipped cream, fresh strawberries and lime slices.