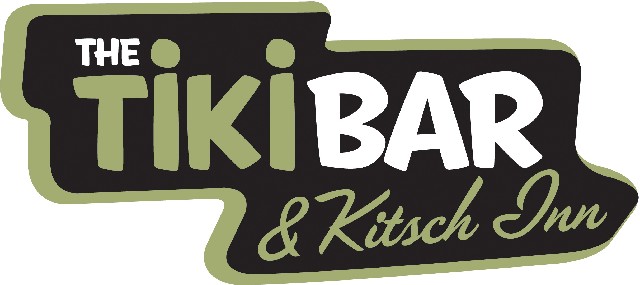 Voodoo Tiki Tequila has arrived in the United Kingdom, featured at the Glasgow tiki mecca, Tiki Bar & Kitsch Inn. Voodoo Tiki Platinum, Reposado, Anejo, and the popular Desert Rose Prickly Pear Infused are available now.
Tiki Bar & Kitsch Inn is an exotic island haven in the city center of Glasgow which features a downstairs tiki bar where guests can enjoy fresh fruit juice and exotic spirit cocktails served in authentic tiki mugs.  Boasting 50′s era authentic tiki decor' replete with puffer fish guests can order cocktails big enough to share that run the gamut from classic to modern tiki.  The space and staff is warm and inviting making the Tiki Bar & Kitsch Inn is a tropical oasis in the heart of Glasgow.
"Tiki Bar & Kitsch Inn is amazing!" said Jennifer Serle VP Corporate Communications.  "It's a must see, and a treat for locals and tourists alike."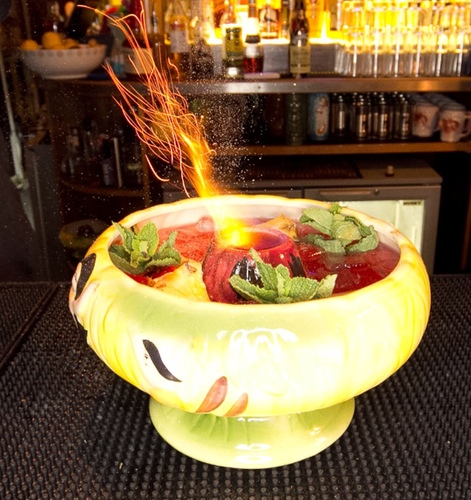 Voodoo Tiki Tequila is boutique brand of ultra premium traditional and infused tequila.  The company's newest exciting feature is Voodoo Tiki Desert Rose Prickly Pear Infused tequila, which is used to make their signature Prickly Pear Margarita. All Voodoo Tiki Tequila is 100% blue agave and all natural with no additives, preservatives or artificial color.  The award winning and highly rated product is very limited in production.  Due to the limited nature of true craft tequila, and to ensure availability to existing accounts, the company adds only a select 300 new retail accounts per year.
Tiki Bar & Kitsch Inn is located at 214 Bath St, Glasgow G2 4HW.  Phone 0141 332 1341.  Visit them online at http://www.tikibarglasgow.com/.
About Voodoo Tiki Tequila

Voodoo Tiki Tequila is a small batch boutique tequila company which produces 100% blue agave, all natural ultra-premium traditional and infused tequilas in artisan glass. Careful agave selection, slow cooking, fermentation, distillation processes lead to the sweet, "No Burn" profile that has become the Voodoo Tiki trademark tequila experience. Voodoo Tiki Tequilas are available in 11 states and 7 countries and are sold exclusively in select restaurant, bar, nightclub and off premise locations through the company's "Select Retailer" program. Retailers that would like to carry Voodoo Tiki Tequilas should call 1-Voodoo-Tiki (1-866-366-8454) for an application. Press inquiries should be directed to Press@VoodooTiki.com. Fans visit www.VoodooTiki.com to get your Free Official Voodoo Tiki Tequila TRIBE Dog Tags by mail.