Brisk sales to new accounts and unexpectedly strong reorder demand has left the Voodoo Tiki Tequila family of single barrel, craft tequila "Sold Out" at the distributor in California.
Sales in restaurants, bars and nightclubs we're led by Voodoo Tiki Tequila signature cocktails on cocktail menus. The popular Prickly Pear Margarita made with Voodoo Tiki Desert Rose Prickly Pear Infused, traditional Voodoo Tiki tequila offerings sold in "Tequila Flights", (a tasting sample of each, Platinum, Reposado and Anejo) as well as the Voodoo Tiki Platinum "Mar-Tiki", (a tequila martini of sorts featuring muddled fruits and artesian syrups) were best selling additions to California cocktail menus statewide.  Meanwhile, re-imagined "Bar Chef" designed cocktails such as "Muertos Vivientos" (The Living Dead) and the "Old Fashioned's New Twist" proved craft, inspired cocktails with premium, fresh ingredients could draw large crowds.  A complete list of Voodoo Tiki Tequila cocktail recipes is available at the Voodoo Tiki Tequila website.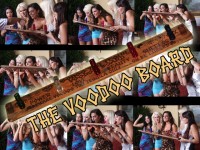 Point of sale items also drove sales.  The "Voodoo Board", a popular and fun device patented for enjoying Voodoo Tiki Tequila (photos of the Voodoo Board in action are available at the Voodoo Tiki Tequila website).  Voodoo Tiki Tequila's handmade, wooden bottle glorifiers placed mystic glowing Voodoo Tiki idols on bars throughout California.  A device that proved particularly popular in California was the service of Voodoo Tiki Tequila Flights served in custom Tiki glassware that consumers had the option to "Take With" as souvenirs.
In liquor shops, oversize 3M Floor talkers, real cell phone activated talking shelf talkers, recipe cards, product brochures and recipe guides cleared the shelves.  Consumer offers for "Home Bar" specialty items such as lightboxes and the complete array of Voodoo Tiki POS also helped drive "Off Premise" sales.
Since it made its 2010 debut in California Voodoo Tiki has enjoyed brisk sales and critical success with placements and strong sales in the states most iconic, cutting edge and popular restaurants, bars, nightclubs and liquor stores.  Voodoo Tiki Tequila is a single barrel, craft tequila made with the finest ingredients in a "Spare No Expense" process that results in a 100% blue agave tequila with sweetness, no heat or bite and complex flavor notes such as pear, vanilla, caramel, and chocolate.  A flavor profile fans have come to refer to as, "The Voodoo Tiki Experience."
Voodoo Tiki Tequila is currently interviewing  and looking for additional California distributors to meet the current demand.  Interested parties should contact the company at 1-Voodoo-Tiki (1-866-366-8454).
About Voodoo Tiki® Tequila
Voodoo Tiki Tequila is a small batch boutique tequila company which produces 100% blue agave, all natural ultra-premium traditional and infused tequilas in artisan glass. Careful agave selection, slow cooking, fermentation, distillation processes lead to the sweet, "No Burn" profile that has become the Voodoo Tiki trademark tequila experience. Voodoo Tiki Tequilas are available in 11 states and 7 countries and are sold exclusively in select restaurant, bar, nightclub and off premise locations through the company's "Select Retailer" program. Retailers that would like to carry Voodoo Tiki Tequilas should call 1-Voodoo-Tiki (1-866-366-8454).