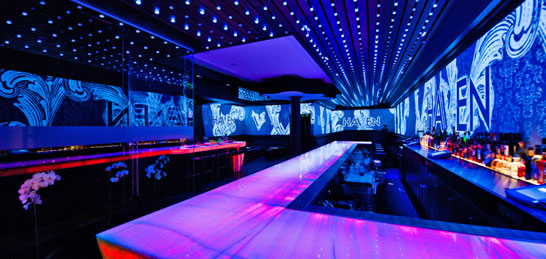 Voodoo Tiki® Tequila and Haven Lounge announced the launch of the Voodoo Tiki Family of ultra premium  boutique tequilas in Haven Lounge.  The traditional and infused 100% blue agave, all natural tequilas will be featured in a number of gourmet specialty cocktails which utilize additional premium spirits, fresh juices and locally grown ingredients.  The cocktail menu will be created by Haven's award winning resident Master Mixologist Issac Grillo.
"Haven is committed to our culinary craftsmanship and our customers.  This includes constantly sourcing new, fresh and exciting ingredients and products of only the highest quality", said Grillo.  The addition of the Voodoo Tiki Tequila family of products to our hand selected distilled spirits catalog is another demonstration of that commitment."
Lincoln Road's Haven Gastro-Lounge menu, made up entirely of small plates, features local ingredients prepared with a molecular twist. The décor is futuristic and relaxed with scenes from nature and rock and roll projected onto the walls and 1,000 frosted ice cube-shaped lights dotting the ceiling.  The modern chemistry meets artist craftsmanship amalgam creates a relaxing yet multi sensory experience. The futuristic digital Hi-Fi lounge also features psychedelic walls with alternating scenes which make you feel like you're on virtual voyage – think Total Recall meets culinary mastery.  Haven Lounges liquid nitrogen-laced cocktails, some of which will now feature Voodoo Tiki Tequilas will be available to kick start your journey.

Haven Lounge's first Voodoo Tiki Tequila offering is a cucumber and prickly pear infused Margarita featuring liquid nitrogen blasted prickly pear infused ice cubes and tequila caviars.  Images of the cocktail, Isaac's "Secret Recipe" and a review of the culinary masterpiece can be found on the Voodoo Tiki website.
"We visited Haven lounge, met Mixologist Isaac Grillo and knew immediately this was a Voodoo Tiki destination", said Jennifer Serle VP Press Relations.  "We add less than 300 new retailers each year, so choosing new retail outlets can get tough, but Haven Lounge featuring Isaac Grillo's masterful creations was an obvious choice."
The futuristic gastro-lounge, helmed by a former Zuma chef Todd Erickson represents another perfect setting for the craft tequila in artisan glass packaging.  Voodoo Tiki hand selcts  Guests can now enjoy Grillo's Voodoo Tiki Tequila creations will at Erickson's "chef table," a four-seat bar flanking the open kitchen, were they can watch chef Todd Erickson work his magic with liquid nitrogen and blow torches.
Haven Lounge libation specialties will also include three additional Voodoo Tiki tequila cocktails, each a perfect complement to Haven's innovative menu featuring snappy watermelon and feta salad dressed in cachaca vinaigrette, lobster-scallop ceviche or "crackle-pop" spicy tuna roll – lightly grilled on the outside and outfitted with Rice Krispies on the inside.  The detailed menu is divided into cold plates (salads, crudo,  sushi rolls), grilled skewers and half a dozen sliders. Burger buns are a custom-made brioche-challah hybrid, and ingredients like pink peppercorns, scotch bonnet honey and ouzo mustard dot the menu.

Desserts feature a rotating flavor selection of nitrogen blasted ice creams, "made to order" by combining a flavor base with liquid nitrogen, in flavors like guava-cheese, Nutella and date, and sometimes garnished with fun toppings like Captain Crunch. There's also a devil's food cake with cayenne ganache for chocolate cake purists.
About Voodoo Tiki® Tequila
Voodoo Tiki Tequila is a small batch boutique tequila company which produces 100% blue agave, all natural ultra-premium traditional and infused tequilas in artisan glass. Careful agave selection, slow cooking, fermentation, distillation processes lead to the sweet, "No Burn" profile that has become the Voodoo Tiki trademark tequila experience. Voodoo Tiki Tequilas are available in 11 states and 7 countries and are sold exclusively in select restaurant, bar, nightclub and off premise locations through the company's "Select Retailer" program. Retailers that would like to carry Voodoo Tiki Tequilas should call 1-Voodoo-Tiki (1-866-366-8454) for an application. Press inquiries should be directed to Press@VoodooTiki.com. Fans visit www.VoodooTiki.com for free tequila swag by mail.
About Haven
Haven is an intimate digital HI-Fi Lounge serving fresh organic small plates and innovative cocktails until 5AM nightly.  Haven is outfitted with wrap-around flat screens showcasing rotating images of urban landscapes, pop icons and pastoral scenes. Haven also features state of the art lighting, a DJ booth and relaxing low-slung leather benches.  Haven is located at 1237 Lincoln Road, Miami Beach, nestled between Kim's Chinese Restaurant and the local yokel singing outside Panizza Bistro.  Call 305-987-8885 for more information