I got Gummi Bears! I got Bottle Caps! I got Lemon Heads! I got Sour Patch Kids!
 . . .I got a rock.
[youtube]http://www.youtube.com/watch?v=AFCrmWd3jtE[/youtube]
Remember the days of Fun Dips, Astro Pops, Wax Lips, Necco Wafers and the Pop Rocks that killed poor Mikey? (Relax, he's actually still alive.)  Well, Halloween is here and if you say, "Trick or Treat" just right we'll send you the  coolest margarita guide written since Freddie learned not to play with fire. For a limited time, Voodoo Tiki Tequila is giving party people the ultimate treat to go with their night of tricks – an advance copy of "100 Margaritas!" A PDF version of the book will be available for free download at their website until December 31st 2011.  The guide also shares some gorgeous and tasty rim ideas that transcend the traditional salted rim, such as chocolate dipped, Cinnamon, honey, frosting and even double dipped rims such as frosting with cookie crumbs or chocolate and coconut.  Full instructions and over 200 photos are included.  This is the ultimate margarita party guide.  100 Margaritas! features recipes for traditional tequila classics as well as wild new margarita recipes that might be completely unrecognizable to "Tequila Purists" (read tequila snobs).  Check out the amazing tequila cocktail versions of these classic candy favorites – and don't miss the Carnival Cotton Candy Cocktail Recipe Available Here.  Get it now – (PS – If you have a slow internet connection give it some time to download).
Gummi Bears (also spelled as Gummy Bear)  originated in Germany, where the happy yet soon to be devoured bears are popularly called Gummibär. Hans Riegel Sr., a candy maker from Bonn, started the Haribo company in 1920. In 1922, he invented the Dancing Bear, a fruit-flavored gum made in the shape of a bear. The success of the Dancing Bear's successor would later become Haribo's world-famous Gold-Bears candy product in 1967.  Then another company, Trolli jumped on the gummy bandwagon in 1981 and was the first to introduce gummi worms in 1981.  The popularity has resulted in a cornucopia of items for Mixologists to build creative cocktails around such as rings, worms, frogs, snakes, hamburgers, cherries, sharks, penguins, hippos, lobsters, octopuses, apples, peaches, oranges, and even Ampelmännchen, Smurfs and spiders.
Haribo Gummi Bears (Our favorite) come in five flavors.   Raspberry (red), orange (orange), strawberry (green), pineapple (clear), and lemon (yellow).  Gummi Bears are insanely popular.  They are even one of the few types of candy to have been turned into a television show, and now an amazing party cocktail.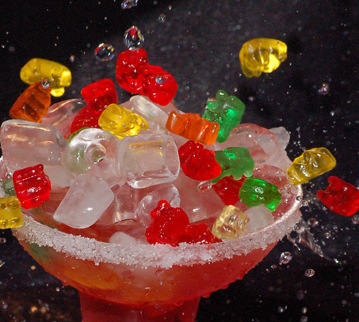 Gummi Bear Margarita
1.5 oz Voodoo Tiki Blue Dragon Blue Raspberry and Kiwi Infused Tequila
1 oz Watermelon Pucker
.5 oz Triple Sec
1 oz Sour Mix
1 oz Cranberry Juice
Dash of Grenadine
Rim: Sugar or Cinnamon
Serve: Up Rocks Frozen
Garnish: Gummi Bears Mixed in the Glass.
Pictured: Highball Rocks
I know you're here for some great margarita recipes, not an episode of "How It's Made", but gumballs have an interesting life before dying an awful death in the mouth of a sugar craving eight year old.  Flavored  gum is made into a long cylinder, cut into small cylinders, and  run through a specialized machine to form hollow balls. The gumballs are then stored for several hours below60 degrees to harden. Once hard, the gumballs are put into huge kettles where they are coated with a flavored and colored sucrose solution, similar to how jelly beans are coated. After several hours tossing in the machine, the coated balls are dried with hot air and rolled in beeswax or other wax. This final step helps make gumballs shiny and water-repellent, making them the perfect confection to be dispensed from a gumball machine.  Sadly, then it's off to death row.  But if you're a gumball, and you're numbers up, drowning in this delicious Candy Cocktail is the death equivalent of a heart attack in bed ( . . .and not while sleeping.)
Gumball Margarita
1 oz Voodoo Tiki Blue Dragon Blue Kiwi Infused Tequila
1 oz Apple Shakka
1 oz  Hypnotic Liqueur
4 oz White Cranberry Juice
Rim: Sugar
Serve: Up Rocks Frozen
Garnish: Gumballs Mixed in the Ice
What was with that weird looking living bottle cap with feet on the wrapper?  Currently by Nestlé under their Willy Wonka Candy Company brand, Bottle Caps are tart tablet candies made to look like metal soda bottle caps in grape, cola, orange, root beer, and cherry flavors.  Cherry replaced the "Lemon Lime" flavor from the 80s packs.  Also today bottle caps are a bit smaller than old school – go figure, progress.   Bottle Caps have a sweet but slightly sour taste to them, coincidentally like the classic Margarita, which makes  this the perfect candy compliment in this retro fun Candy Bar Cocktail.
A box of Bottle Caps can be found in the Survival Horror video game Dino Crisis by checking Regina's lighter 50 times. This will produce a "kill me" which will transform into a box of Bottle Caps an hour later.
A shooter known as the "Bottle Cap", which tastes similar to the candy, can be made using lime juice, citrus soda, root beer Schnapps, and raspberry liqueur or Amaretto. The liqueurs are combined in a shot glass, which is then dropped into a larger glass containing the soda and lime juice. The entire concoction is then drunk together.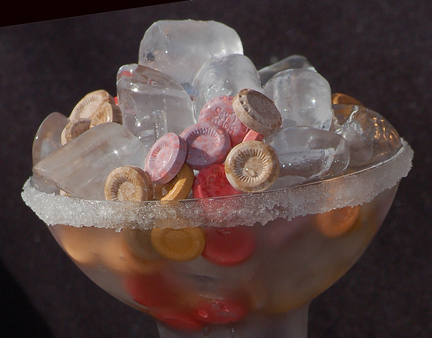 Bottle Cap Margarita
1 oz Voodoo Tiki Green Dragon Mandarin Lime Infused Tequila
1 oz Grape Liqueur or Grape Schnapps
1 oz  Hypnotic Liqueur
3 oz White Cranberry Juice
Rim: Sugar
Serve: Up Rocks Frozen
Garnish: Bottle Caps Mixed in the Ice
Pictured: Margarita Glass On the Rocks
Jolly Rancher Margarita

Today a fully integrated brand of candy, including gummies, fruit chews, jellybeans, lollipops, and sodas, however we remember then for what they were and will forever be – the hard candy that could be bought for two cents apiece.  Jolly Rancher is currently owned by Hershey. The product was originally produced by the Jolly Rancher Company, founded in 1949 by Bill and Dorothy Harmsen of Golden, Colorado. The name is meant to suggest western hospitality.  Mix one up partner.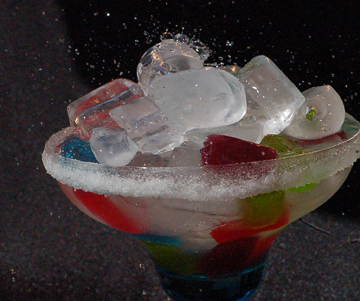 Jolly Rancher Margarita
1 oz Voodoo Tiki Blue Dragon Blue Raspberry and  Kiwi Infused Tequila
1 oz Peach Schnapps
1 oz Sour Apple Pucker
2 1/2 oz Cranberry Juice
Rim: Sugar
Serve: Up Rocks Frozen
Garnish: Assorted Jolly Ranchers Mixed in the Glass
Pictured: Highball Rocks
Whatchamacallit Mar-Tiki
The Whatchamacallit, by The Hershey Company. This candy bar was first introduced in 1978 with a peanut-flavored crisp, layer of caramel and a layer of milk chocolate coating. In the late 80s, a commercial was created in a New Wave style referring to the bar in various ways to say "whatchamacallit", including names that had been made-up, such as "wowzamadoo". Hershey's Whatchamacallit is found in recipes for various food items including pies, cookies, cheesecakes, cupcakes, and of course…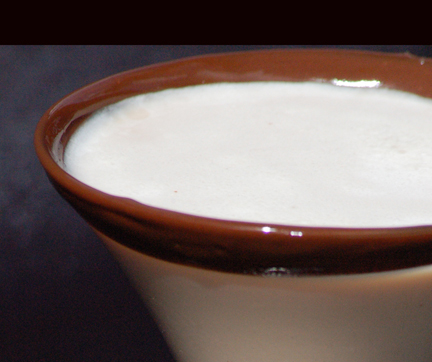 Whatcha'Macallit Mar-Tiki
Swirl Glass with Chocolate Syrup
1 oz Voodoo Tiki Reposado Ultimo Tequila
1 oz Godiva Chocolate Liqueur
1/2 oz Frangelico
2 oz Half & Half
1 oz Cola
Rim: Chocolate Syrup
Serve: Up Rocks Frozen
Garnish:  Candy Bar Slice.
Pictured: Up
And of course don't forget to check out the Desert Rose Prickly Pear Margarita and the Blue Raspberry Kiwi Margarit or the Carnival Cotton Candy Cocktail