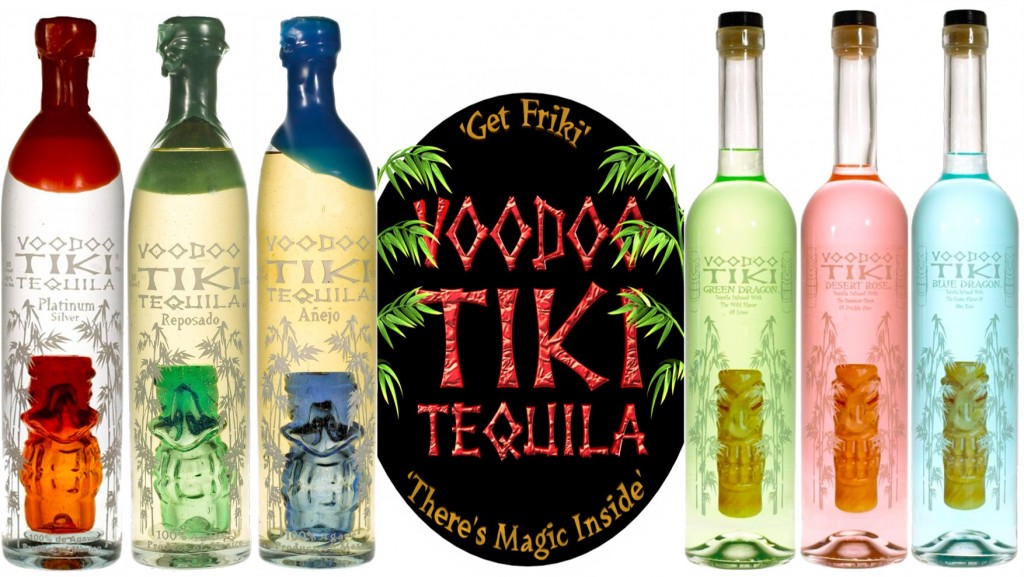 Mumbai, Maharashtra, January 30, 2007 /India PRwire/ — Voodoo Tiki, the producer of one of the world's finest brands of Tequila, has recently made its first foray in the Indian market, with the launch of two of its flavored Tequila brands – Desert Rose (Prickly Pear) and Blue Dragon (Blue Kiwi).  Speaking on the occasion, Donna Taddeo, President, Voodoo Tiki Tequila, said,
"For the first time, a premium Tequila brand is being introduced in India. Our flavored Tequila brands are already a rave in the West. Here in India, we are aiming to capitalize on the fledgling market for premium spirits, and are already seeing a great response."
Both Desert Rose and Blue Dragon Tequila are tequilas infused with flavors you would get using an infusion-jar process. Since production techniques greatly affect the taste of Tequila, companies such as Voodoo Tiki take great pains to stick to the traditional methods of Tequila-making while also being innovative.
Mumbai-based Sultania Trade Private Limited will distribute Voodoo Tiki's products in India. According to Sultania's A.M.David, "The estimated demand for premium Tequila in India is about 250,000 cases. Needless to say, we already see ourselves a dominant player in this segment." When asked to explain the marketing strategy of Voodoo Tiki Tequila in India, David quipped that Voodoo Tiki Tequila is targeting not only the connoisseurs, but also those who are keen to experiment and look beyond the whiskies and vodkas."
In India, the market for Tequila is growing at 25 percent annually, and is projected to grow by at least ten times over the next ten years. This means a lucrative market for Voodoo Tiki Tequila, considered one of the best ultra-premium Tequila brands in the world.
In the first phase of their rollout, Desert Rose and Blue Dragon will be launched in Delhi, Mumbai and Bangalore. In the second phase, Calcutta, Pune, Goa, Chennai and Hyderabad will be targeted. In metros such as Delhi, it is the five-star hotels, pubs, and upmarket restaurants where the brand will make its presence felt.
So, apart from the fact that these are high-quality Tequila brands, what is it that makes Desert Rose and Blue Dragon so special? In the words of Donna,
"Desert Rose and Blue Dragon are infused with the flavor of prickly pear and blue kiwi, respectively. While Desert Rose is well-known for creating the scrumptious prickly pear Margarita, nothing can beat Blue Dragon when it comes to creating the perfect Blue Dragon Martiki. Not surprisingly, within a short span of time, both these brands have become very popular in the U.S."
The Tequilas from Voodoo Tiki can be used for making a number of cocktails. Some of them are:
The Peach-Lime Margarita
Tropical Tiki Margarita
Classic Lime Margarita
For more drink recipes, please email recipes@voodootiki.com or visit www.VoodooTiki.com
About Voodoo Tiki
Voodoo Tiki offers a full range of high-concept, high-quality Ultra-Premium tequila each made from 100% Blue Agave plants aged anywhere from 8-12 years, and bottled in Mexico as set forth by Mexican Law. The Tequila Factory is located in Anrandas, Mexico, in the state of Jalisco, Mexico and the corporate headquarters are in Lighthouse Point, Florida. Voodoo Tiki offers tequilas that suit every need and taste, from the occasional tequila drinker to hard-core traditionalists and connoisseurs. First to offer ten flavor-infused tequilas including Prickly Pear, Lime and Blue Kiwi. The company can be reached via toll-free telephone at 1-VoodooTiki (866-366-8454), or1-954-786-8454 or via email at Press@voodootiki.com or through its Web site at www.voodootiki.com
Sultania Trade Private Limited are Distributors for Alcoholic Beverages Indian made Foreign Liquor, Beers and Imported products. The Company is one of the largest distributors for The UB Group for its Spirits Division and for SAB Miller for their beers. Presently the Company supplies to over 350 wine shops,0ver 800 permit rooms and all star hotels , clubs and premium restaurants in the mega polis of Mumbai. The Company is now focused onleveraging its expertise in distribution by bringing into the country.
See the original Press release from Sultania Trade Private Limited Here.