Voodoo Tiki Tequila has teamed with MIA Biscayne to bring the Voodoo Tiki family of craft tequilas to Miami Tequila lovers.  The full line of Voodoo Tiki tequila, as well as Gourmet Margaritas, specialty cocktails and "Tequila Flights" are now available at the Biscayne posh spot.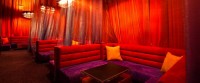 Located on the corner of Flagler and Biscayne, the MIA at Biscayne is a unique restaurant and lounging concept, bringing classic conversation cuisine, live performance lounging and a fresh nightlife atmosphere to Downtown Miami. Executive Chef Gerdy Rodriguez prepares creative takes on culinary classics while marrying the international flavors of Spain, Japan and Latin America. Designer Isaac Valdes has created a space with rich stylistic elements. An L-shaped, outdoor patio hugs Biscayne Boulevard creating the perfect setting to dine al fresco or take in the bay view's while enjoying a Voodoo Tiki Tequila all-natural, made-to-order gourmet cocktail. Mia at Biscayne features a unique interior design features including a built-in event stage and state-of-the-art sound system. MIA is home to the first United States outpost to incorporate the European concept of the iBar® and iWall™ interactive technologies into its design.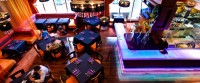 Voodoo Tiki Tequila is made in small batches, with the finest ingredients in a process that results in an award winning taste profile with very little heat or bite.  Voodoo Tiki tequilas feature notes of sweet agave, vanilla, caramel, butterscotch, dark chocolate, and brandy, without the burn or rough finish which is synonymous with other tequilas.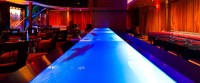 MIA Biscayne will feature gourmet cocktails and exclusive Voodoo Tiki Tequila tasting Flights.  100% Blue Agave Voodoo Tiki crafted Platinum maintains the herbal sweet taste of the mature agave with a light pear finish. Voodoo Tiki Reposado is carefully and lightly aged for up to one year – always to taste and never to time – resulting in a sweet vanilla like taste with a light brandy finish. Añejo is aged a minimum of one year, and as much as 2 years and 364 days resulting in a caramel, butterscotch and dark chocolate with soft cognac style taste and finish.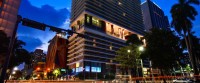 The exclusive Voodoo Tiki Desert Rose Prickly Pear infused tequila.  The World's first and only prickly pear infused tequila, used to make the current "It" cocktail, the prickly pear margarita.
Many Voodoo Tiki Tequila products are Sold Out at the distribution level upon shipping.  The company's Three Year Anejo, the Coleccion Privada de la Familia, extremely limited to only 1,000 signed and numbered bottles per annum is currently sold out five years in advance, with a growing waiting list.  To ensure availability of very limited production Voodoo Tiki tequila, the company adds only 300 new retailers each year to their Selective Retailers program.  Interested retailers should call 1-Voodoo-Tiki.  MIA Biscayne offers the Coleccion Privada de la Familia on their exclusive VIP Bottle Service list.  Please call ahead to reserve availability.
Mia at Biscayne is conveniently located at 20 Biscayne Boulevard.  For VIP Reservations info@MiaBiscayne.com or call 786-400-6500.  Visit them online at http://www.miabiscayne.com/  Follow MIA on Twitter @/miabiscayne.  Become a fan on Facebook at http://www.facebook.com/miabiscayne
About Voodoo Tiki® Tequila
Voodoo Tiki Tequila is a small batch boutique tequila company which produces 100% blue agave, all natural ultra-premium traditional and infused tequilas in artisan glass. Careful agave selection, slow cooking, fermentation, distillation processes lead to the sweet, "No Burn" profile that has become the Voodoo Tiki trademark tequila experience. Voodoo Tiki Tequilas are available in 11 states and 7 countries and are sold exclusively in select restaurant, bar, nightclub and off premise locations through the company's "Select Retailer" program. Retailers that would like to carry Voodoo Tiki Tequilas should call 1-Voodoo-Tiki (1-866-366-8454) for an application. Press inquiries should be directed to Press@VoodooTiki.com. Fans visit www.VoodooTiki.com to get your Free Official Voodoo Tiki Tequila merchandise by mail.