Only 300  licensed retail outlets will be invited to join Voodoo Tiki Tequila's Selective Retailers Program in 2012.  The invitational program allows restaurants, bars, night clubs and liquor stores access to an unprecedented level of, advertising, point of sale, marketing and support, as well as exclusive access to Voodoo Tiki Tequila products as allowed by law.  Liquor retailers interested in becoming a member of the Selective Retailers program are encouraged to contact the company.
"Voodoo Tiki Tequila's Production is very limited", said Julian McWatt, Voodoo Tiki International Sales Manager.  "To make sure we properly support our retail trade partners Voodoo Tiki Tequila is only sold in special places, and by special people."
Selective Voodoo Tiki Tequila retailers receive customer referrals, product support, "Point of Sale" materials, new media support, as well as numerous press relation and marketing opportunities including "Co-Op" advertising opportunities, access to Voodoo Tiki Tequila's press engine, SEO, new media accounts, in store or on premise promotions and access to other exciting offers and programs (where permitted by law.)
"The handmade wooden lightbox bottle glorifiers and the floortalkers are particularly popular", said McWatt.  "And our 5 liter Voodoo Tiki display bottle is an amazing window or back bar display.  This is great stuff."
"An "On Premise" promotion that fans love is the Voodoo Tiki Tequila Flight.  It's an opportunity to sample Voodoo Tiki Platinum, Reposado and Anejo in our Mexican bubble tiki shotglasses", said Michael Cuevas, Voodoo Tiki Tequila V.P. Southeast Sales.  "In some instances fans get to keep the tiki shotglasses.  It's an amazing promotion."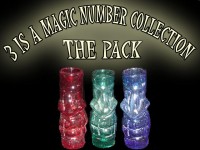 Selective retailers also receive a business listing and feature article on the Voodoo Tiki website, www.VoodooTiki.com with links to the Selective Retailers websites, complete with phone number and address listings.
"The Selective Retailer program is designed to create a trade partnership bond between retailers that love Voodoo Tiki Tequilas and the Voodoo Tiki staff", said Company President Donna Decunzo-Taddeo. "Our retailers are in business for themselves, but never by themselves.  This program makes business both profitable and fun. It's great when we meet retailers that love Voodoo Tiki Tequila, and are so excited to work with us."
Retailers that wish to receive more information on the program can phone the company at 1-Voodoo-Tiki (1-866-366-8454), or email success@VoodooTiki.com.  Retailers are urged to act quickly, as the program is strictly limited.
About Voodoo Tiki Tequila
Voodoo Tiki offers ultra-premium traditional & infused tequilas made from 100% Blue Agave. Voodoo Tiki Tequilas are sold exclusively in select restaurant, bar, nightclub and off premise locations through the company's "Select Retailer" program.  Retailers that would like to carry Voodoo Tiki Tequilas should call 1-Voodoo-Tiki (866-366-8454).  Press inquiries should be directed to Press@VoodooTiki.com.   Please visit our website at www.VoodooTiki.com