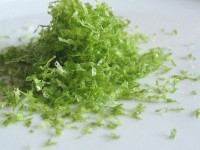 Falernum (pronounced fah-learn-um) is a sweet, complex flavored syrup used in Tiki Cocktails. It contains flavors of ginger, clove, and lime, and sometimes almond, vanilla or allspice. It is used in cocktails in a manner similar to orgeat syrup or drunk on the rocks. The syrup form is primarily alcoholic, but nonalcoholic versions do exist. The consistency is thick, with the color most commonly light amber.  Falernum owes its name to the renowned ancient Roman wine falernian, known as falernum in Latin.
Some reports have the origination of falernum dated back to the 18th century, but the earliest known reference in bar manuals seems to be the 1930s. Although some producers of commercial falernum claim their recipes to date to the 1800′s.
Famous Voodoo Tiki Tequila cocktails including falernum include Muertos Vivientos, Delores Park Swizzle and many variations of the Mar-Tiki.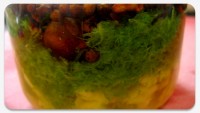 Recipe for Voodoo Tiki Falernum
   8 oz overproof rum (preferably something of neutral flavor such as Wray and Nephew or Lemon Hart 151)
   50 cloves
   10 limes, zested
   1 cup julienne ginger
Toast the cloves over medium heat until they are fragrant, about 5 minutes shaking the pan being careful not to burn them. Drop the cloves and remaining ingredients into the rum. Cover with plastic wrap, or a tight lidded jar and let steep for 24 to 48 hours.
After 48 hours strain through a coffee filter.  Add steeped mixture to a 2:1 simple syrup (Swizzle Syrup or Hot Method Simple Syrup).
Recipe for Swizzle Syrup,
2 cups sugar
1 cup boiling water
Stir cups of sugar into boiling water to dissolve entirely.