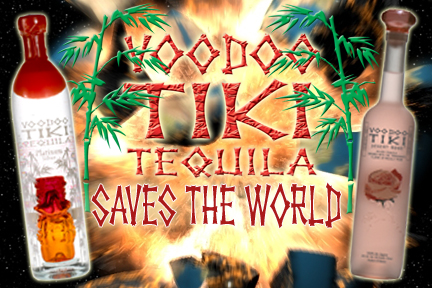 Voodoo Tiki Magic Saves Planet
Not the End of the World as We Know It, So Feel Fine
Capila de Guadelupe May 21st, 2011  - It's a Voodoo Tiki Tequila World, and it's not going anywhere – at least for now.  It only took one Voodoo Tiki incantation to wipe out a year of Radio Broadcaster Harold Camping's Doomsday prophecy.  Voodoo Tiki Tequila is the official drink of the disaster formerly known as certain.
"If you are reading this after May 21, you're welcome", said Johnny Tiki.  Visit www.voodootiki.com for more information on the ritual."
Last year, WeCanKnow.com, a group from North Carolina, began purchasing billboards proclaiming the end of the world (as we know it). Similar billboards were paid for by Harold Camping, the 89-year-old owner and president of the Oakland, Calif.-based Family Radio network who started the May 21 Doomsday scare.
"The guy is a real Debbie Downer", said Johnny Tiki, Voodoo Tiki Tequila's Outspoken Tiki Mascot and leader of the Tiki Incantation that saved Earth.  "I got a lot going on right now, and it's just not a good time for the apocalypse."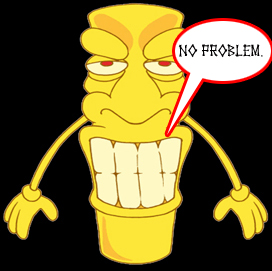 Family Radio spokesman Tom Evans says the group spent "Millions" getting the word out on the now un-impending doom.  Mr. Tiki spent significantly less on the purchases he required to avert the end of days.
"We used a ritual cocktail, A strawberry Lime Mar-Tiki, muddled limes and strawberries with Voodoo Tiki Platinum Tequila, and a splash of 7Up", Explained Johnny Tiki.  "I'd say we're in for maybe 50 bucks, but considering we're talking about the whole planet on a square footage basis it's a pretty good deal."
Asked about next years' "Mayan Doomsday Prophecy", Johnny Tiki was a bit less confident.
"We need a virgin for that one, and with our new Desert Rose Prickly Pear Infused Tequila being mixed into hot pink Prickly Pear Margaritas across the country we're having a tough time finding one", Johnny Tiki continued, "We know you love our Desert Rose Tequila, we get it.  You can stop mailing us your panties."
About Voodoo Tiki Tequila
Voodoo Tiki offers ultra-premium traditional & infused tequilas made from 100% Blue Agave.  Voodoo Tiki Tequilas are sold exclusively in select restaurant, bar, nightclub and off premise locations through the company's "Select Retailer" program.  Retailers that would like to carry Voodoo Tiki Tequilas should call 1-Voodoo-Tiki (1-866-366-8454). Press inquiries should be directed to Press@VoodooTiki.com.  Fans visit www.VoodooTiki.com to get your Free Official Voodoo Tiki Tequila TRIBE Dog Tags by mail.