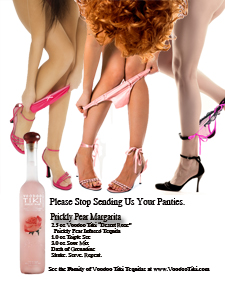 It started innocently enough.  At a holiday trade show in 2008 a convention guest of the fairer sex tasted a Voodoo Tiki Tequila® Desert Rose® Prickly Pear Margarita.  She licked her lips and remarked with wide eyes, "I better be careful with these or I'm likely to lose my panties!"
Two years, and that humorous anecdote told 1,000 times later, have led to over 100 packages of ladies "unmentionables", mailed into Voodoo Tiki Tequila.
"Voodoo Tiki Tequila is ultra-premium, fun & sexy", said Michael Cuevas Voodoo Tiki V.P. of Southeast Business Development.  "It's no surprise Voodoo Tiki fans have such a flirty & fun sense of humor."
The Prickly Pear Margarita has become the signature drink in upscale Mexican restaurants worldwide, but was challenged to penetrate the party because the proper recipe for the cocktail requires prickly pear infused tequila, an expensive, time consuming, and laborious process.  Voodoo Tiki Desert Rose Prickly Pear Infused Tequila is a 100% Blue Agave, all natural alternative to waiting and work.  Learn More about it here.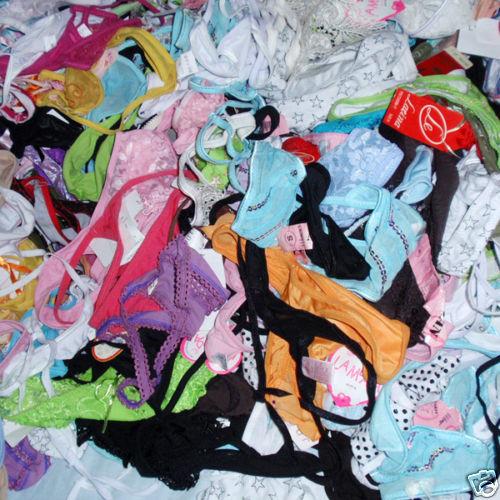 Prickly pears are the fruit of the Opuntia cacti, which grow wild throughout the Americas and many parts of the world. Officially named "tuna", they're sweet, often used to make candies and jam and juice.  However, they're not easily found in your local grocery store, must be peeled carefully to remove the small spines on the outer skin, and even if you find them and survive the peeling process, you're still 10 days preparation process away from infused tequila.
So many restaurants and bars "cheat" the recipe.
"They incorrectly use prickly pear juice in their prickly pear margaritas as opposed to Infused Tequila", explained John Taddeo Mixologist and author of the E-Book "100 Margaritas!", "It makes for a heavier cocktail with less complex flavors.  Mixologists will earn no panties serving this imposter."

The correct recipe calls for infused tequila such as 2.5 oz of Voodoo Tiki Desert Rose® Prickly Pear Infused Tequila (Buy It Here) ; 1/2  oz Triple Sec, 2 oz Sour Mix and Dash of Grenadine for color- Combine all ingredients in a glass with ice and shake.  Serve your prickly pear margarita on the rocks, or strain into a martini glass for Mar-Tiki Style. Garnish with a lime wheel.  Click here to watch it mixed at the world famous Zocalo's in Ohio.
Enjoy, but please stop sending us your panties.
Click Here to Check Out Voodoo Tiki's Sexy New Ads!
For Media Inquiries pls contact:
Press@voodootiki.com
About Voodoo Tiki Tequila
Voodoo Tiki offers ultra-premium traditional & infused tequilas made from 100% Blue Agave. Voodoo Tiki Tequilas are sold exclusively in select restaurant, bar, nightclub and off premise locations through the company's "Select Retailer" program.  Retailers that would like to carry Voodoo Tiki Tequilas should call 1-Voodoo-Tiki (866-366-8454).  Press inquiries should be directed to Press@VoodooTiki.com.   Please visit our website at www.VoodooTiki.com