(Bottle) Art Mimics Life at Nikki Beach on December 2nd – 5th of 2010 when Nikki Beach Miami, the premier luxury lifestyle entertainment group, welcomed Voodoo Tiki Tequila during Miami's acclaimed international art festival, Art Basel. The exhibit featured Voodoo Tiki Tequilas red hot Desert Rose Prickly Pear Infused tequila in her sexy and sultry new packaging to enhance an evening featuring the the iconic talents of legendary pop artist, Steve Kaufman.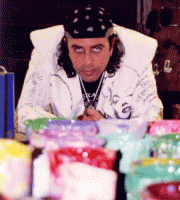 Steve Kaufman was born in the Bronx, New York, in 1960. At the young age of eight he had his first exhibit, and by the time he was 12 he had a job painting faces on pet-rocks for NYC's Macy's department store. Steve Kaufman then worked as an assistant to Andy Warhol in Warhol's factory.  In 1989 Kaufman opened his own art studio and hired many NYC homeless to work for him.  He then painted the portraits of three homeless people which went on to help raise $4,720,000.00 to benefit the homeless. While operating his own studio Kaufman has continued to employ the homeless and ex-gang kids from the Los Angeles area. Throughout his life Kaufman was renowned for his charity work, contributing to many worthy charities through his artwork and by personally visiting with the underprivileged and disabled.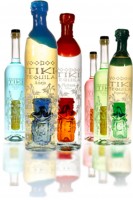 Steve Kaufman and Voodoo Tiki have more in common besides a lifetime commitment to those in need and a love of art.  Kaufman believes in creating works that are unique not only in subject matter, and style but also "Unique within his own limited edition sizes."  Each Steve Kaufman limited edition is hand embellished to ensure that no two works are exactly alike – just like Voodoo Tiki.  No two bottles of Voodoo Tiki Tequila are alike!  Every bottle is an individually handcrafted work of art.  You can watch Mexican bubble glass artist Alehandro Nuramo creating a Voodoo Tiki "Magic Bottle HERE.
The Warhol "Pop Art" style also inspired Voodoo Tiki's Limited Edition "Tequila Pop" collection created by Voodoo Tiki founder John Taddeo.  Four paintings, each featuring a different member of the Voodoo Tiki Family of Tequilas.  The hand signed editions are limited to 100 signed and numbered pieces, and are available on the Voodoo Tiki website here.