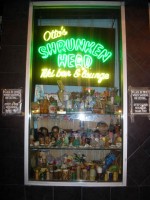 Voodoo Tiki® Ultra Premium traditional and infused tequilas are now featured at the famous New York City Tiki Bar Otto's Shrunken Head NYC.  Voodoo Tiki Platinum, Reposado, Anejo and Desert Rose Prickly Pear Infused Tequila will be offered.
A small group of native New Yorkers and one Pittsburghian got together in early 2002 and decided that New York City did not have a decent Tiki Bar since the demise of Hawaii Kai in Times Square and the destruction of Trader Vic's at the Plaza Hotel by Ivana Trump. They approached their friend and fellow Tiki aficionado and Club Owner Deb Parker (owner of Beauty Bar & Barmacy) about buying Barmacy and transforming it into New York City's own little Tiki oasis. Thus with her blessing and the blessings of all the South Sea Gods, Otto's Shrunken Head opened in the summer of 2002. The goal was to bring the laid back island vibe of the South Pacific to New York City. Manhattan is after all, an island.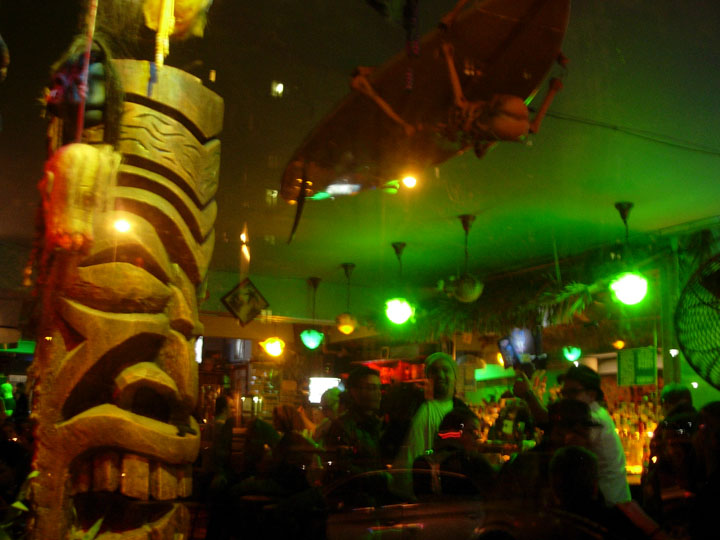 Voodoo Tiki Cocktails and "Infused Margaritas" will be available.  Starting this week, Otto's Shrunken Head guests can order a Voodoo Tiki Tequila Mar-Tiki® featuring muddled orange, lime and artisan syrups.  Voodoo Tiki Desert Rose Prickly Pear Margarita features fresh lime juice, prickly pear infused tequila and agave nectar.  Voodoo Tiki Tequila "Flights" are served in handmade Mexican Bubble Glass Voodoo Tiki glasses.  The newest creation, "Voodoo Magic" will debut one the Voodoo Tiki Website in August.  This marks the first time Voodoo Tiki Traditional and Infused Tequilas have been sold at a New York City Tiki Bar.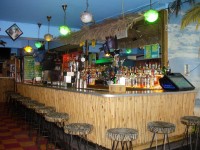 Otto's is a new interpretation of the Tiki Bar, mixing traditional Tiki decor and potent rum based concoctions with live bands and DJs resulting in NYC's premier Rock-n-Roll Tiki joint.  On Saturday nights at 2:30 AM a drink that is so decadent that it can only be served once a week, for 30 minutes, will rear its ugly head. It's called a "Slice of Heaven" and it involves "deep fried bacon" and a shot of your choice. Only the truly adventurous need apply.
The move by the Florida-based Voodoo Tiki of America brings the award winning, boutique tequila to another key location in New York City, after recently adding 40 new South Beach Miami accounts into their exclusive Selective Retailers Program.  Selective Retailers receive an unprecedented level or support and product exclusivity, unprecedented in the liquor industry.  Retailers interested in more information on the program should contact the company at 1-Voodoo-Tiki.
"The Selective Retailer Program has been a game changer for many bars, nightclubs and restaurants", said Jennifer Serle, Voodoo Tiki V.P of Marketing & New Media.  "It's like having a best friend in the Media business that fixates day and night on bringing customers into your business."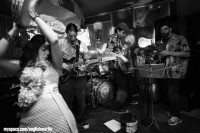 Otto's Shrunken Head welcomes private and corporate parties as well as music industry showcases. The facility is available for photo and TV/film shoots.  Otto's has hosted a incredibly diverse group of bands playing everything from Lounge/Exotica, Rockabilly, Punk, Country, Rock, Garage, Metal, Surf and Acoustic/Singer/Songwriters and DJs throughout the week. Open Mics, Spoken Word/Poetry, Literary Readings, Film Screenings and a monthly live band Karaoke night are also scheduled regularly.  Visit them for a complete event schedule.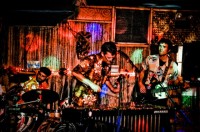 Voodoo Tiki Tequila is made in small batches, with the finest ingredients in a process that results in an award winning taste profile with very little heat or bite.  Voodoo Tiki tequilas feature notes of sweet agave, vanilla, caramel, butterscotch, dark chocolate and brandy, without the burn or rough finish which is synonymous with other tequilas.  The company is adding a very limited number of new retailers through 2012.
The basis on which every Tiki bar is judged is its drink menu. Otto's Shrunken Head offers a mixture of classic drinks (Mai Tai, Singapore Sling) and new house-brewed concoctions (Pang's Punch, Patty's Poison, Otto's Octane). Drinks are made with fresh juices and the finest ingredients and are never too sweet or syrupy. Tiki drinks are served in Tiki mugs with a $5 deposit. You can keep the glass if you like or just return the mug and get your deposit back. We carry many different rums from all throughout the Caribbean and a large selection of tequilas.
About Voodoo Tiki® Tequila

Voodoo Tiki Tequila is a small batch boutique tequila company which produces 100% blue agave, all natural ultra-premium traditional and infused tequilas in artisan glass. Careful agave selection, slow cooking, fermentation, distillation processes lead to the sweet, "No Burn" profile that has become the Voodoo Tiki trademark tequila experience. Voodoo Tiki Tequilas are available in 11 states and 7 countries and are sold exclusively in select restaurant, bar, nightclub and off premise locations through the company's "Select Retailer" program. Retailers that would like to carry Voodoo Tiki Tequilas should call 1-Voodoo-Tiki (1-866-366-8454) for an application. Press inquiries should be directed to Press@VoodooTiki.com. Fans visit www.VoodooTiki.com to get your Free Official Voodoo Tiki Tequila TRIBE Dog Tags by mail.
About Otto's Shrunken Head
Otto's Shrunken Head is dedicated to the highest quality ingredients and service.  Otto's Shrunken Head is located at 538 East 14th Street, NYC 10009, call 212-228-2240.  For general information email info@ottosshrunkenhead.com. To subscribe to Otto's events email list email list@ottosshrunkenhead.com. Visit them online at http://ottosshrunkenhead.com/pages/events.php for a complete event schedule.