Tequila Sunrise, IBA Official Cocktail
The tequila sunrise is an exotic mixture of revitalizing orange juice and pomegranate grenadine, even though it's often erroneously excessively doused with sugary sweet sugar laden red dyed grenadine.
The Tequila Sunrise stands out as the "Anti-Martini." It's often had a charisma and machismo connotation. The bad guy, or the bad guy that kills worse guys is the Tequila Sunrise drinker.
The magnificence of the Tequila Sunrise is its additional dimension of flavor. You have the tequila together with orange juice for a tart citrus, and you get further fruity sweetness belonging to the grenadine. A lovely cocktail that will always and forever be a favorite. The sweet and citrus go along well with the smooth texture and flavor of the tequila.
It has been termed the Tequila Sunrise because of the blend of the coloring of the grenadine and OJ imitates appears like that of a sun rising sky. Therefore the order of operation is vital. Start off with a glass of choice filled with ice. Then pour the tequila into the glass then the OJj. The last component that goes in is the grenadine which on account of gravity, sinks to the base of the glass and gives the elixer its' color of sunrise mixed up with the OJ. You can decorate with an orange slice and a cherry. Enjoy.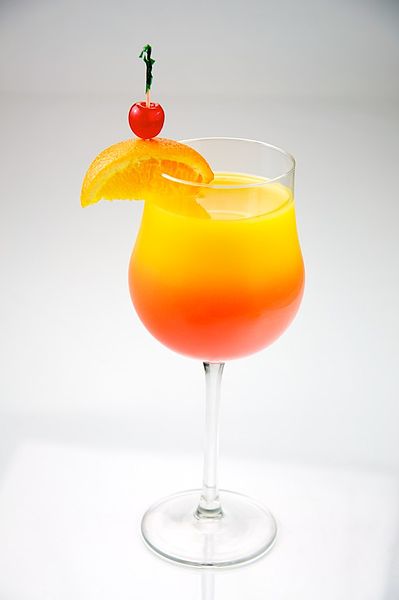 Create the perfect Tequila Sunrise with Reposado Tequila.
Tequila Sunrise 
1.5 oz Voodoo Tiki Reposado Tequila
3   oz Orange Juice
1/2 oz Pomegranate Grenadine
Combine all ingredients over ice.  Option to top with 2 dashes of Angostura bitters for complexity. Serve without stirring or shaking.
Variations Abound!
There are many variations of the Tequila Sunrise.  The portions stay the same, simply swap out the ingredients as follows.  Try them all, just not at once!
Aperol Sunrise – substitute Aperol orange liqueur for grenadine.
Tequila Sunset – substitute blackberry brandy for grenadine.
Caribbean Sunrise – use rum instead of tequila (blasphemy but if you must . . .click here.)
Astronaut Sunrise – use Tang instead of orange juice.
Amaretto Sunrise – use Amaretto instead of grenadine.
Florida Sunrise – use equal measures of pineapple and orange juice.