Did you miss Part I of this Series?  Click Here
When Tequila is made it is 100% blue agave Silver, Platinum or Blanco.  All three generally mean the same thing with Platinum often used to designate when the ingredients and methods produce a product superior to the competition – such as Voodoo Tiki Platinum Tequila.  In would be unfair to call Voodoo Tiki "Silver" when what we put in the bottle costs 5-7 times what many "Sacred Cows" put in the bottle – Quick Think of a SILVER Tequila! – yep, that's the one.  What we put in the bottle costs 5-7 times what they put in. We apologize to the competition, but "Some things are not debatable."
So while we're already sparing no expense, let's talk about how you make it more expensive.
If you take 100% Blue Agave Voodoo Tiki Platinum Tequila, barrel it and age it for up to 9 months it becomes a Reposado, which means "Rested." During the barreling process the tequila will absorb some of the color and flavor from the wood.  Tequila is often aged in brandy barrels so it will likely pick up some of the brandy flavors.  Voodoo Tiki ages to taste – not color and we age in white French oak brandy barrels, so our Reposado is light in color.  This is not a product flaw, it is a benefit to our sweet flavor profile.  Voodoo Tiki Tequila Reposado has a very sweet vanilla like flavor.
TIP: Most Reposado tequilas are not very dark, but to fool the tequila buying public some companies tint their bottle glass  brown.  Voodoo Tiki ships in clear Mexican bubble-glass.
Aged Tequilas
If you continue the aging process for over a year you will have an Anejo, which means "Aged." This will have taken out more of the qualities of the barreling process.  It will further mellow out a "Bite" if any exists, as well as have more brandy flavor in the finish.  Voodoo Tiki Anejo has a caramel like sweetness, with very cognac / brandy like finish.
If you continue the aging process for three years you will have an "Extra Anejo" or as many people refer to it, "Three Year Anejo." In the last few years the term "Three Year Anejo" is being phased out as some tequilas are being aged as much as six years.  There is really no reason to age a tequila beyond three years.  Three years is the true sweet spot on aging, and often the more aged tequilas are not considered high quality.  The aging above three years seems to be a marketing gimmick to get people to believe that longer aging is better.  Like many wines, with tequila this is simply not true.
Voodoo Tiki Tequila's Coleccion Privada de la Familia is limited to 1,000 single liter bottles and comes shipped in a hand craved Voodoo Tiki wooden case – Over 2 Feet Tall!  It contains 1,00% Los Altos Blue Agave Extra Anejo, aged three years.  This product represents one of, if not the best tequila ever exported from Mexico since tequila production began in Mexico in the 16th century – of course we believe that tequila was first made hundreds of years earlier in Africa, the birthplace of Voodoo.
TIP: Voodoo Tiki Tequila is surrounded by myth and legend.  If you haven't watched and read the full story, do so right away!
Voodoo Tiki Tequila Taste and Flavor Profile
Voodoo Tiki Tequila PLATINUM (Red Wax Bottle / Red Tiki)
Voodoo Tiki 100% Weber Blue Agave Platinum Tequila, maintains the herbal sweet taste of the mature agave with a light pear finish.  Recommended neat, on the rocks, Classic Margarita and Mar-Tiki.
PROFILE: SWEET, HERBAL, AGAVE FLAVOR WITH A LIGHT PEAR FINISH.
Voodoo Tiki Tequila REPOSADO (Green Wax Bottle / Green Tiki)
Voodoo Tiki 100% Weber Blue Agave Reposado Tequila, is carefully and lightly aged for up to one year resulting in a sweet vanilla like taste with a light brandy finish.
PROFILE: SWEET VANILLA WITH A LIGHT BRANDY FINISH.

Voodoo Tiki Tequila Anejo (Blue Wax Bottle / Blue Tiki)
Voodoo Tiki 100% Weber Blue Agave Anejo Tequila, is aged a minimum of one year resulting in a soft cognac style taste and finish.
PROFILE: SOFT COGNAC TEQUILA FLAVOR.  WELL RESTED WITHOUT A BITE OR AFTERTASTE.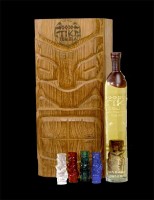 EXTRA ANEJO Three (3) Year Anejo
Voodoo Tiki Tequila "Colección Privada de La Familia"
One liter of only the best, 100% Los Altos Blue Agave Voodoo Tiki Añejo is aged three years or more to taste. Strictly limited to only 1,000 bottles per year. Each bottle is housed in a handcrafted wooden Voodoo Tiki, and comes with 4 hand-blown Mexican bubble glass Voodoo Tiki shot glasses.  Allocations will occur on this product.  MSRP $999.99.  This is a tremendous bottle service item!
PROFILE: BRANDY COGNAC FLAVOR WITH A SEMISWEET VANILLA AND LIGHT HINT OF SMOKE FINISH.
Voodoo Tiki Infused Tequilas
Voodoo Tiki Desert Rose Prickly Pear Infused Tequila – The First & Only Prickly Pear Infused Tequila in the World!
One of the most exciting products in the Voodoo Tiki family is our Desert Rose Prickly Pear Infused Tequila.  This is a 100% Blue Agave, all natural infused tequila with no artificial colors.  Desert Rose is used to make the signature, "Prickly Pear Margarita" – The drink that forced Voodoo Tiki to ask fans in the now famous ad campaign, "Please Stop Sending Us Your Panties."
Infusing tequila is a long, expensive and laborious process!  We did the work for the retailer & consumer!  Now, following a very basic, "Standard Margarita" recipe fans can enjoy a true, refreshing and original Prickly Pear margarita without the weight and inconsistencies of heavy prickly pear juices, syrups or sugar laden flavorings.
TIP:  Commit the recipe to memory as quickly as possible: Juice of 1 Lime (muddled), 2.5 oz Voodoo Tiki Desert Rose Prickly Pear Infused Tequila, ½ oz agave nectar. Shake with ice. Serve.
Renowned for its' striking blue color, Blue Dragon is 100% blue agave with no artificial colors.  Many fans say Voodoo Tiki Blue Dragon Blue Raspberry and Kiwi Tequila tastes like cotton candy.  Blue Dragon is a Voodoo Tiki Tequila "Seasonal Product" featured in the summer, which ships June, July and August.
100% blue agave, lime infused with no artificial colors.  Green Dragon is more than a hint of lime!  It's a powerful fresh lime zest that adds life to any margarita as if it was crafted with fresh sour mix and agave nectar.  A delicious and surprising infused tequila for sipping or margaritas.  It's a very eye opening experience.  Green Dragon is a Voodoo Tiki Tequila "Seasonal Product" featured in the spring, which ships March, April & May.  SIGNATURE COCKTAIL: Peach Lime Margarita