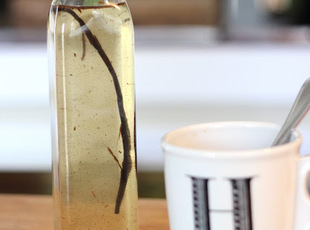 Made with real vanilla beans, this Vanilla Simple syrup is the perfect complement for gourmet "Mixology Class"  Voodoo Tiki Cocktails.
Remember, when you're thinking vanilla in your cocktails consider using Voodoo Tiki Reposado Tequila.  With it's natural vanilla sweet nuances it's the tequila of choice for cocktails leaning vanilla.
This recipe utilizes the "Hot Water" simple syrup method.  The "Cold Water" method, generally used for non-flavored simple syrups is not recommended.
This recipe makes eight (8) oz of Vanilla Simple Syrup and can be stored refrigerated for up to a month.
Ingredients:
2 Cups Sugar
1.25 Cups Boiling Water
3 Vanilla Beans
Preparation:
Bring the water to a boil in a saucepan.  Remove heat.  Stir in sugar slowly dissolving the entire two cups of sugar into the hot water.  Split the vanilla beans along their length.  Place the vanilla beans in a heatproof infusion jar.  Pour the hot simple syrup over the vanilla beans.  Let stand at room temperature to cool and infuse overnight.  Remove Vanilla beans, and all pieces after 12 hours.  Store in the refrigerator after removing vanilla beans.
Would you like to receive Voodoo Tiki Tequila cocktail recipes, coupons and free tequila swag by mail?  Join the Tribe now!