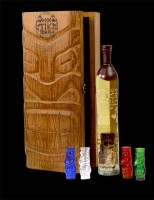 Freehold,NJ — 01/25/2012 — Voodoo Tiki Tequila, the company known for ultra-premium , 100% blue agave traditional & infused tequilas in hand blown glass bottles, has partnered with Shore Point Distributing Co., one of New Jersey's premier beer, wine and spirits wholesalers since 1933. Shore Point distributes its world class line up of brands to 8 counties and over 2,100 accounts.
Chris McGowan, Public Relations, Media and Marketing Manager for Shore Point comments,
"Voodoo Tiki is a proud addition to Shore Point's portfolio, further cementing its position as a source for world class products. Shore Point finds it a pleasure to work with such a passionate company."
"Voodoo Tiki Tequila is beginning to enter its growth phase. We believe that Shore Point Distributing Co. and its team are a perfect fit for us" said Donna DeCunzo-Taddeo, President of Voodoo Tiki Tequila.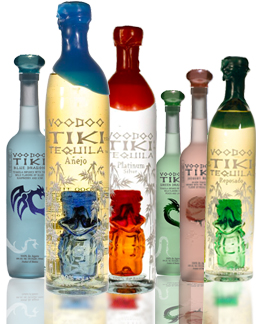 Following this strategic partnership, Voodoo Tiki Tequila looks poised and ready to increase their market share of the growing U.S. Tequila market. Tequila is one of the fastest growing spirits in the United States, with retail sales over $4.3 billion in 2010.
Aged in barrels carved from ancient and purportedly magical Voodoo Tikis. With a "Magic Word" on the back of every bottle, every bottle handmade, signed, numbered and glass etched – Voodoo Tiki Tequila has a lot of talking points, and that, coupled with a unique manufacturing process that results in the unique Voodoo Tiki taste is what drives the popularity.
Voodoo Tiki's full line includes traditional tequilas Platinum, Reposado and Anejo as well as infused tequilas – Desert Rose Prickly Pear Infused, Blue Dragon Blue Raspberry and Kiwi Infused and Green Dragon Lime Infused.
The company also produces 1,000 bottles annually of an Extra Anejo, 3 year aged "Limited Edition" that comes packed in a hand carved tiki. The limited edition has sold out on pre-orders in each of the five years it has been offered.
Retailers interested in Voodoo Tiki Tequilas can call 1-Voodoo-Tiki ( 1-866-366-8454) to join the Voodoo Tiki Tequila Selective Retailers program.
A full array of Point of Sale materials is also available to retailers as allowed by law.
About Voodoo Tiki Tequila
Voodoo Tiki offers ultra-premium traditional & infused tequilas made from 100% Blue Agave. Voodoo Tiki Tequilas are sold exclusively in select restaurant, bar, nightclub and off premise locations through the company's "Select Retailer" program. Retailers that would like to carry Voodoo Tiki Tequilas should call 1-Voodoo-Tiki (1-866-366-8454 ). Press inquiries should be directed to Press@VoodooTiki.com. Fans visit http://www.VoodooTiki.com to get your Free Official Voodoo Tiki Tequila necklace by mail.
About Shore Point Distributing Co.
Founded in 1933, Shore Point Distributing Co. is one of New Jersey's largest beverage distribution companies, serving eight counties. Shore Point's leading brands include Coors Brewing Company's Coors Light, Crown Import products such as Corona and Modelo Especial and D.G. Yuengling & Sons Yuengling Lager . Shore Point distributes more than seven million cases of beer, wine and spirits per year and employs over 200 people. In the summer of 2008, Shore Point opened the doors and truck bays of a brand new,267,000 -square-foot facility in Freehold, N.J. In 2011, Shore Point went green, debuting its' 1200-kilowatt rooftop solar/PV system on the roof of its' facility. For more information visit www.shorepoint.com .