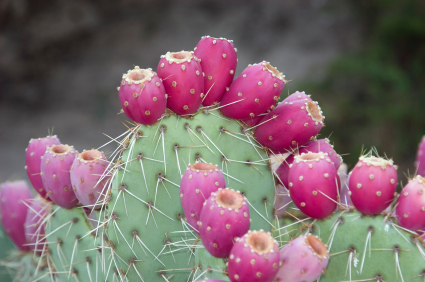 Restaurants and Bars Sell Prickly Pear Margaritas for Big Bucks, But you don't have to Drop $20 to Sip the Ultimate Margarita!
It's become the signature drink in upscale Mexican restaurants worldwide, and it's penetrating the party scene like a debutante, Pop Idol, movie star.  You may not have realized it yet, but no longer are all those "Pink Drinks" in celebrity photos Cosmos.  The hot new "It" cocktail on the scene is the Prickly Pear Margarita, but what just makes this drink such a sensation?

That's the question.  However, for at least the last two years there's been no answers.  Even the few and far between "Master Mixologists", expert cocktailians and Bar Chefs that know the recipe do not make it their business to shake these up on a regular basis, but why?  If they know the recipe, why can't I have one?  And what the heck is a "Prickly Pear" in the first place?
"It's in the tequila", explains Voodoo Tiki Tequila's (www.VoodooTiki.com) in house Mixologist and Margarita Master John Taddeo.  "You have to have prickly pear infused tequila like our Voodoo Tiki Desert Rose Prickly Pear Infused tequila or you'll never get it right.  Bars that try to short cut the recipe by replacing some of the sour mix with prickly pear juice only succeed in ruining the drink".
Prickly pears are the fruit of the Opuntia cacti, which grow wild throughout the Americas and many parts of the world. Officially named "tuna", they're sweet, often used to make candies and jam and the aforementioned juice.  However, they're not easily found in your local grocery store, must be peeled carefully to remove the small spines on the outer skin, and even if you find them and survive the peeling process, without Voodoo Tiki Desert Rose you're still 10 days preparation process away from this illusive elixir.
"Peel them and soak them in ultra premium platinum tequila like our Voodoo Tiki Platinum", explains Taddeo.  "Pick the ripest and juiciest prickly pears, peel and soak in platinum tequila.  Allow the fruit to infuse the tequila to a light pink and taste often.  A good prickly pear infusion will generally take 3-4 juicy pears per 750 ml of tequila and about a week".
If you choose to infuse your own, Taddeo suggests using airtight mason jars, or to purchase an actual "Infusion Jar".  The peeled pears are added to the tequila and the jar is sealed.  The jar should then be stored in a cool dry place, and shaken 3-5 times per day for 6-10 days depending upon personal taste.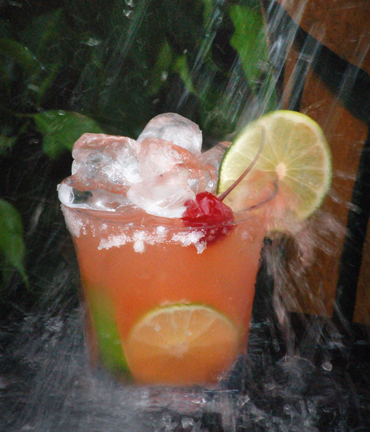 You heard right.  Expensive and hard to find fruits, peeling, avoiding cactus spine injuries and up to 10 days of 3-5 shakes a day?  Uh, Martini please.
But wait, before you start grabbing for the Vodka, Voodoo Tiki Tequila has a stress free solution.
"We did it for you!", explains Taddeo.  "Voodoo Tiki Desert Rose is a Prickly Pear Infused tequila ready to pour – no jars, no waiting – just a simple recipe mix away from the ultimate margarita.  Shake with your own fresh cocktail mix and enjoy!"
Voodoo Tiki infused tequilas also come in Mandarin Lime Infused (known as Green Dragon) and a Blue Raspberry and Kiwi (Blue Dragon).  In addition, the company offers a super premium line packed in handmade glass bottles, etched and dipped in sealing wax and each featuring an actual glass "Tiki" sculpture inside.  The super premium tequilas are available in Platinum, Reposado and Anejo.  As many as ten additional infusions – one even more crazy than the next are planned, but will only be seasonal offerings, so prepare to stock up.  So far however, Desert Rose remains the far and away best seller powered by the popularity of the Prickly Pear.  Production is very limited, and the line is only carried by "top shelf" liquor outlets almost twenty states and five Countries and online at www.DrinkUpNY.com.
So now you know where to get it, we hit Taddeo up for the Top Secret recipe and we're pleasantly surprised to find that this recipe – and 99 others – are available free online at the Voodoo Tiki website (www.VoodooTiki.com/100margaritas).  However for those that can't wait the one minute download time, here for the first time ever is the recipe:
Prickly Pear Margarita
2 ½ ounces Voodoo Tiki Desert Rose Prickly Pear Infused Tequila
½ ounce Triple Sec
2 ounces Sour Mix
½ ounce Orange Juice
Dash of Grenadine for color
Combine all ingredients in a glass with ice and shake.  Drink on the rocks, or strain into a martini glass for Mar-Tiki Style. Garnish with a lime wheel.  Drink. Repeat.
About Voodoo Tiki Tequila
Voodoo Tiki offers ultra-premium traditional & infused tequilas made from 100% Blue Agave. Voodoo Tiki Tequilas are sold exclusively in select restaurant, bar, nightclub and off premise locations through the company's "Select Retailer" program.  Retailers that would like to carry Voodoo Tiki Tequilas should call 1-Voodoo-Tiki (866-366-8454).  Press inquiries should be directed to Press@VoodooTiki.com.   Please visit our website at www.VoodooTiki.com