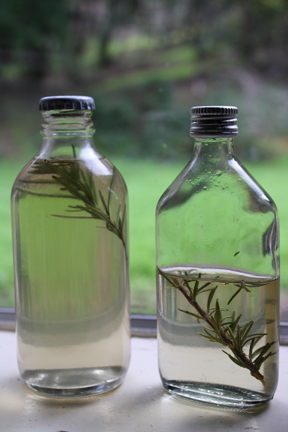 Made with fresh rosemary sprigs in a classic infusion process, Rosemary Simple Syrup adds complexity and fragrance to your gourmet "Mixology Class"  Voodoo Tiki Cocktails.
Highly recommended for use with Voodoo Tiki Platinum Tequila.  The natural sweetness, and true agave flavor of "Los Altos" agave mixes well with the fragrant nature of Rosemary Simple Syrup.
This recipe utilizes the "Hot Water" simple syrup method.  The "Cold Water" method, generally used for non-flavored simple syrups is not recommended.
This recipe makes eight (8) oz of Rosemary Simple Syrup and can be stored refrigerated for up to two weeks.
Ingredients:
2 Cups Sugar
1.25 Cups Boiling Water
3-4 Sprigs Fresh Rosemary
Preparation:
Bring the water to a boil in a saucepan.  Remove heat.  Stir in sugar slowly dissolving the entire two cups of sugar into the hot water.  Place the Fresh Rosemary sprigs in a heatproof infusion jar.  Pour the hot simple syrup over the fresh rosemary.  Let stand at room temperature to cool and infuse overnight.  Remove rosemary.  Store in the refrigerator after removing rosemary.
Would you like to receive Voodoo Tiki Tequila cocktail recipes, coupons and free tequila swag by mail?  Join the Tribe now!