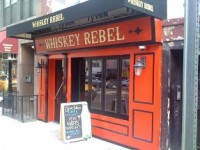 Voodoo Tiki® Tequila and Whiskey Rebel NYC are partnering to bring Voodoo Tiki Ultra Premium traditional and infused tequilas to New York City's Flatiron, Kips Bay area.  Whiskey Rebel will be offering iconic beverages including Voodoo Tiki "Tequila Flights" of their handcrafted, artisian Platinum, Reposado, Anejo tequilas, and infused tequilas.
Whiskey Rebel is part of a family of bars that includes Snafu and Whiskey Trader. The Deco-style and rich mahogany bar features happy hour drink specials, and multiple TV screens to catch the games. The Rebel also hosts a Monday trivia night every week and unlimited popcorn. Bartenders aim to be accommodating and welcome to the local set that fills "The Rebel" on weekdays.  The warm, mood lighting makes the comfortable space cozy and inviting.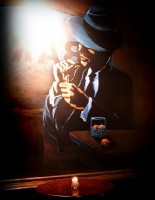 The move by the Florida-based Voodoo Tiki of America brings the award winning, boutique tequila another key location in New York City.  Voodoo Tiki Masterpiece Tequila is made in small batches, with the finest ingredients in a process that results in an award winning taste profile with very little heat or bite.  Voodoo Tiki tequilas feature notes of sweet agave, vanilla, caramel, butterscotch, dark chocolate and brandy, without the burn or rough finish which is synonymous with other tequilas.  The company adds only 300 new retailers per year, and is now accepting applications for the 2012 Selective Retailers Program.  Interested parties should call 1-Voodoo-Tiki.
Whiskey Rebel will feature Voodoo Tiki Platinum Tequila, maintains the herbal fragrance and sweet taste of the mature agave with a light pear finish.  Voodoo Tiki Reposado Tequila, is carefully and lightly aged for up to one year resulting in a sweet vanilla like taste, hints of butterscotch with a light brandy finish.  Voodoo Tiki Añejo Tequila, is aged a minimum of one year resulting in a caramel, butterscotch profile with hints of dark chocolate and a soft brandy and cognac style finish.  All are 100% blue agave, all natural with no artificial colors, flavors or additives.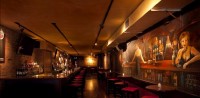 "Whiskey Rebel shares our passion for craft spirits, which makes them an obvious Voodoo Tiki destination.", said Jennifer Serle, Voodoo Tiki Director of Corporate Communications.  "The atmosphere is the perfect setting to enjoy a Voodoo Tiki Tequila Flight."
Whiskey Rebel is located at, 129 Lexington Avenue (between. 28th & 29th Street.)  Call 212-686-3800 for more information or visit them online at http://wwwwhiskeyrebelnyc.com/
About Voodoo Tiki® Tequila
Voodoo Tiki Tequila is a small batch boutique tequila company which produces 100% blue agave, all natural ultra-premium traditional and infused tequilas in artisan glass. Careful agave selection, slow cooking, fermentation, distillation processes lead to the sweet, "No Burn" profile that has become the Voodoo Tiki trademark tequila experience. Voodoo Tiki Tequilas are available in 11 states and 7 countries and are sold exclusively in select restaurant, bar, nightclub and off premise locations through the company's "Select Retailer" program. Retailers that would like to carry Voodoo Tiki Tequilas should call 1-Voodoo-Tiki (1-866-366-8454) for an application. Press inquiries should be directed to Press@VoodooTiki.com. Fans visit www.VoodooTiki.com to get your Free Official Voodoo Tiki Tequila TRIBE Dog Tags by mail.