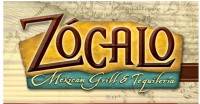 The Voodoo Tiki Team visited Zocalo Cleveland and were treated to delicious tequila flights in their private tequila tasting room!  Inside we found the complete line of Voodoo Tiki Tequilas, offered as "Tequila Flights", one each of a tasting shot of Voodoo Tiki Platinum, Voodoo Tiki Reposado, and Voodoo Tiki Anejo.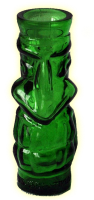 Do you want to bring "Voodoo Tiki Tequila Flights" to Your favorite Restaurant?  Click Here.
The flight was served in Voodoo Tiki Signature Tiki Shot Glasses which customers get to keep as a memento of their visit. The entire tequila tasting experience – from their "Tequila Room" to the keepsake Tiki shot glasses was an experience to remember!  If you're a bar or restaurant manager, or owner and you would like to bring Voodoo Tiki Tequila Flights to your business Click Here for details on how we can provide you with Customer Keepsake Tiki Shot Glasses.
Next we stumbled over to the bar, where we were greeted with Voodoo Tiki Prickly Pear Margaritas as you'll see in this tasty video! Yum!
[youtube]http://www.youtube.com/watch?v=vIXSBHUMQIM[/youtube]

Voodoo Tiki Desert Rose is the "Original" and ONLY Prickly Pear Infused Tequila! If you're using syrup or juice to make your prickly pear margaritas, you must try our Prickly Pear Infused Tequila!  You'll never go back to syrup again.  Ask for it at your favorite restaurant, and if you're working on getting your favorite bar or restaurant to carry Voodoo Tiki Tequila let us know at Donna@VoodooTiki.com.
Zocalo is a unique Mexican restaurant and bar  on East 4th Street.  Visit their website, and when you're in their neck of the woods check them out.  It's worth the trip!