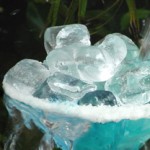 The tribe over at Voodoo Tiki Tequila along with their resident Registered Dietitian and Master Mixologists have been hard at work in the lab creating concoctions for the calorie savvy.
Is it so ironic that a Registered and Licensed Dietitian who assisted in the creation of an award winning Diet website is now the President of  a tequila company?
"Everything in moderation including moderation, " says Donna DeCunzo-Taddeo RD, LD and President of Voodoo Tiki Tequila. "When you look at the premise behind the brand, Voodoo Tiki Tequila is about living life to the fullest and having fun. An escape from the humdrum facts of life. "
Do we all have to get older?  Yes. Do we have to stop having fun? Absolutely not!  Often times, we set "rules" that do not serve us well. Aren't you  fascinated when you meet people over the age of 30, who incorrectly assume that now that they are______ (fill in the blank: married, have kids, have a career, etc) that they "Do not have time to have fun." Absurd right?!  As equally absurd are those who are watching calories and think that "happy hour" is over.  Good news, think again.
"Once our tribe members find out that I am also a Registered Dietitian, the second most common email I receive is- how can I make a lower calorie cocktail?", said DeCunzo-Taddeo.
(Although the company's most commonly received question, by far, remains "When will Voodoo Tiki Tequila be available in my State?)
The majority of cocktails range from 200 to 400 calories. Not so bad if you are consuming one, but let's face it, most of us have two or even three… ahem … or maybe more (you know who I am speaking too- yes you!)
Much like food, the average of 300 calories pertains to a standard size cocktail. However, if your cocktail is being served in a glass that is larger than your head, it may contain more than 1,100 calories! Almost a day's worth for some of us "petite" ladies.
As a dietitian, I suggest that you consume a delicious, "Low Cal" cocktail and feel satisfied, physically and emotionally, than to have nothing and feel deprived, only to over-indulge later as a result. Unlike diet sodas, there is  no calorie-free alcohol.
Here are some tips so that you can begin to put the "Happy" back in "Happy Hour" without feeling guilty the next morning as you do the walk of shame toward the scale.
Make sure you are well hydrated during the day before going out for cocktails. This prevents the occasional headache you may get from being dehydrated. (As for the headache you get from drinking lousy liquor, all the water in the world will not stop that.  For that simply stop drinking low quality liquors found in "wells" and "drink specials.")
Alternate alcoholic and nonalcoholic drinks to reduce calories-consume still or sparkling water with a slice of lime in between cocktails.
Choose wine, light beer, or simple cocktails made with low-calorie mixers. Just as you might order your salad with dressing on the side, don't be shy about asking for your cocktail your way.
Be calorie savvy:  The number of calories in mixed drinks depends on not only its ingredients but also on size of the drink. The average serving size of wine and alcoholic beverages is probably smaller than you think. Most glasses of wine contain 125-150 calories, but that can double depending on the size of the glass size.  Beer  ranges from 64-198 calories per 12 ounces.
The standard calorie content for  tequila is as follows:
80-proof  (40% alcohol; the most common type) has 64 calories per 1oz
86-proof  (43% alcohol) has 70 calories/1 oz
90-proof  (45% alcohol) has 73 calories/1 oz
100-proof (50% alcohol) has 82 calories/1 oz
A 6-ounce serving of orange juice has 84 calories
And remember that tequila is the only alcohol that's a natural stimulant, so you do not need those high sugar energy drinks!
Average Calories in Common Cocktails:
Cosmopolitan (4 oz): 200 calories
Eggnog with rum (8 oz): 370 calories
Gin and tonic (7 oz): 200 calories
Liquer-Coffee  (3 ounces): 348 calories
Liquer-Chocolate  (3 oz): 310 calories
Long Island iced tea (8 oz): 780 calories
Mai Tai (6 oz): 350 calories
Margarita (6 oz): 280 calories
Martini-Plain (2.5 oz): 160 calories
Martini-Chocolate (3 oz): 438 calories
Mojito (8 oz): 214 calories
Pina Colada (6 oz): 378 calories
Rum and Coke (8 oz): 185 calories
Screwdriver (8 oz): 190 calories
Vodka and tonic (8 oz): 200 calories
White Russian(5 oz): 425 calories
Wine-Red or White (5 oz):120
Now that you're armed with all of this knowledge what is your plan of action?
1. Ask your bartender for these or make these SUBSTITUTIONS at home:
Diet soda or diet tonic: 0 calories (as opposed to 8 oz of regular soda or tonic. Both contain 150 calories/8oz)
Light orange juice (6 oz): 38 calories (vs 84 calories/6oz in regular OJ)
Light cranberry juice (6 oz): 25 calories (vs 102 calories/6 oz in regular cranberry juice)
Light lemonade (6 oz): 4  calories (vs 100 calories/6oz regular lemonade)
Coffee, tea : 0 calories
sugar-free margarita or sweet 'n' sour mix: 0 calories (vs 125 in 4.5 oz serving of standard marg mix)
Lemon or lime juice (1/2 oz): 10 calories
Use 0 calorie Splenda syrup (see recipe below) instead of Simple syrup( a solution of sugar in water) is often used to sweeten cocktails. It is often two parts sugar to one part water containing approximately 50 cal per fluid oz.
*To make Splenda simple syrup: Dissolve 1 cup of Splenda in  1 cup of boiling water then allow to cool. Strain through a coffee filter.  Use wherever a recipe calls for simple syrup.
Use flavorings instead of Liqueurs. In a Margarita recipe, a drop or two of orange extract can substitute for an orange liqueur. A sugar substitute can be added to replace the sweetness and enough water to make up for the amount of liquid needed.
2. Host a HAPPY HOUR AT HOME and try some of these concoctions! Each month, I will post NEW Low Calorie Cocktails for your pleasure to experiment with at your HOME Happy Hour or for use over the weekend! (A little cocktail-tease!)
Stay tuned because we will have a whole ebook full of these recipes coming soon to our tribe members.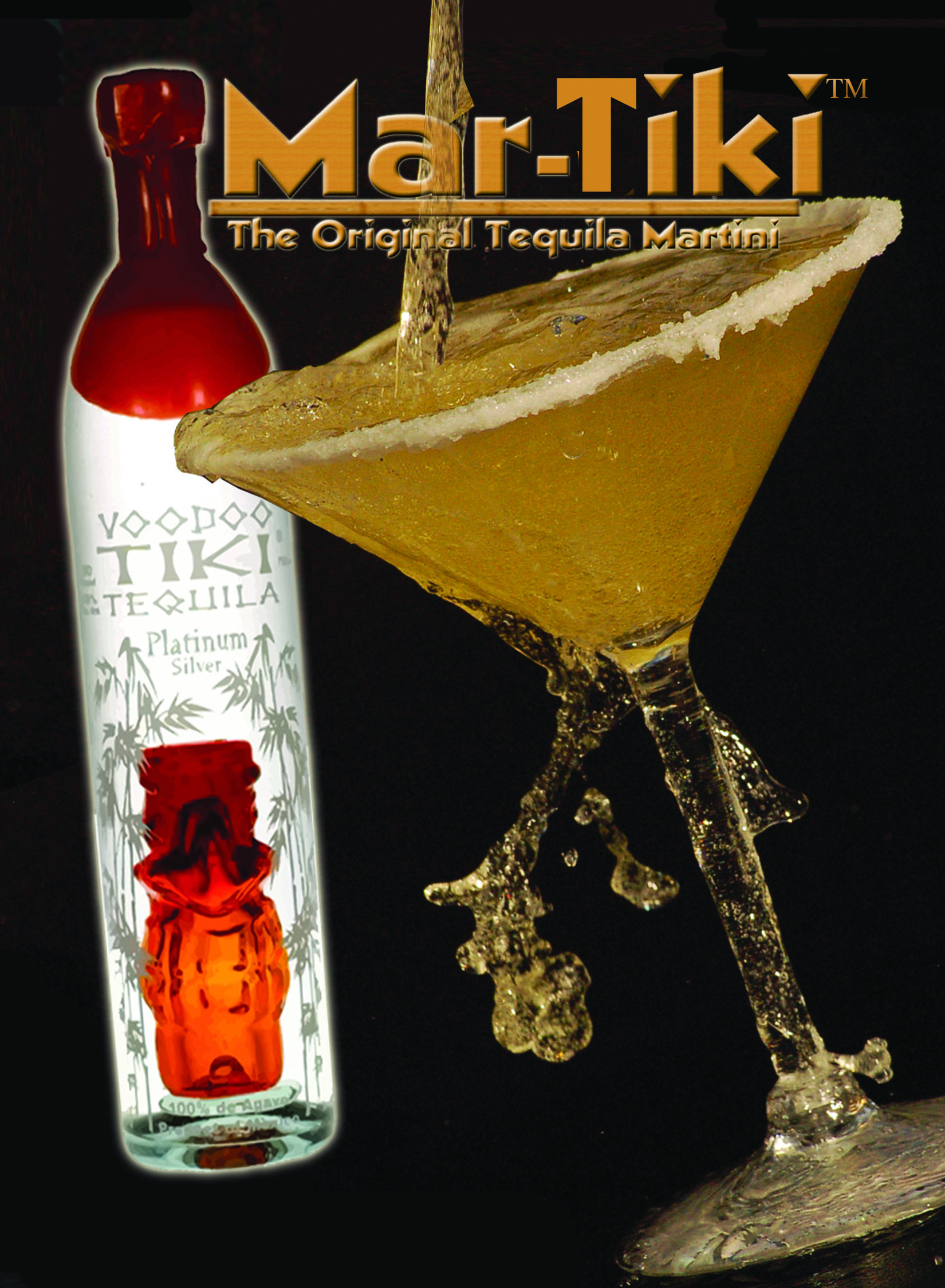 Platinum Mar-Tiki ®
Muddle 1/2 orange and 1/2 line with rind in shaker glass
Add ice
Pour 2 oz Voodoo Tiki Platinum Tequila
Splenda simple syrup (to taste)
Shake; Serve: Up  (Martini glass)
(120 calories)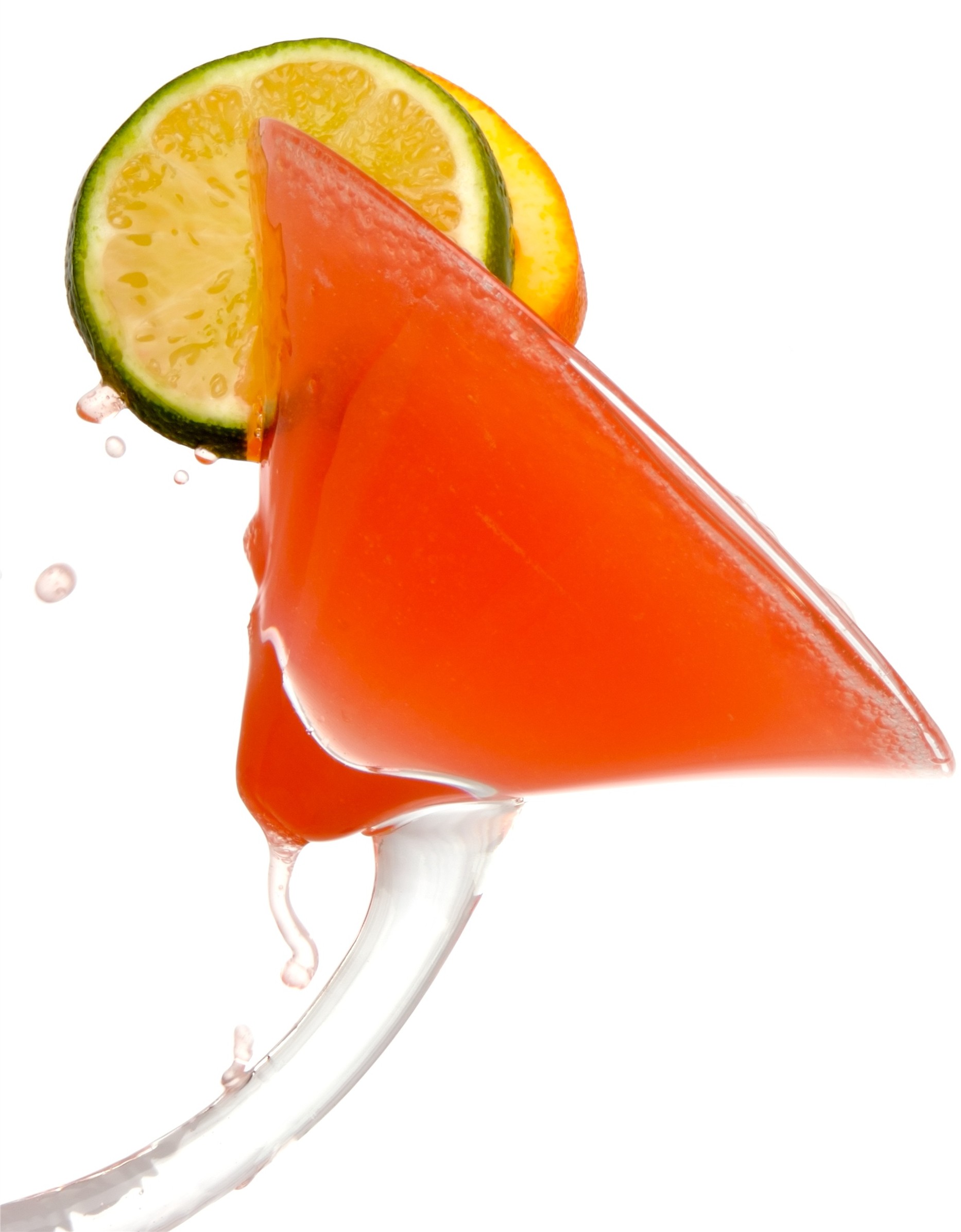 Sexy Chic

1.5 oz Voodoo Tiki Platinum or Voodoo Tiki Tequila-Desert Rose
1/2 oz juice of Fresh Blood Orange
1.5 oz  Diet Cranberry Juice
1/2 oz Fresh Lime Juice over ice
Shake and strain into a chilled martini glass. (110 calories)
Cucumber Cilantro Conundrum:
Muddle: 3-4 cucumber slices,2-3 lemon slices (with rind) & 6-8 cilantro leaves,
Add: 1.5 oz Voodoo Tiki Platinum Silver Tequila and 1/2 oz Splenda simple syrup (see recipe above*)
Shake vigorously with ice, pour into a highball glass, top with soda water.
Garnish with cucumber ribbon. (110 calories)