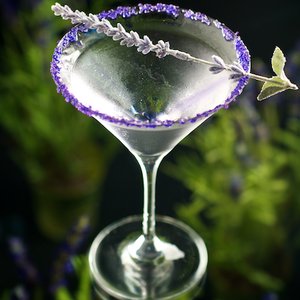 Aromatic handcrafted syrup compliments the equally aromatic, fresh and fruitful Voodoo Tiki Platinum Tequila.
Ingredients:
Preparation:
In a mixing glass combine ice, Voodoo Tiki Platinum Tequila and lavender simple syrup.  Shake hard, breaking the ice to create surface area and creating melt-age, as water is an important aspect of the cocktail.  Strain into martini glass.  Garnish with lavender flower.  For added effect and sweetness you might also decorate the glass with purple sugar or Pomegranate sugar.
If you love the aromatic spring fresh flavor or lavender also check out these other Voodoo Tiki Tequila Mixology New classics Lavender Lemon Drop, Lavender Lime Drop, Pomegranate Tequila Fizz and the Lavender Margarita.