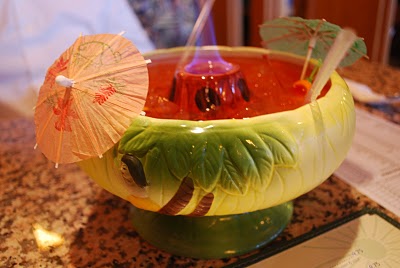 Featuring Voodoo Tiki reposado tequila, brandy, pineapple juice, orgeat syrup, and overproof rum, Johnny Versus the Volcan was inspired by the Volcano Bowl cocktails found in Chinese and Polynesian food restaurants of the 70′s.
Johnny Versus the Volcano is an equal opportunity intoxifier "Multi-user" cocktail, served to your tribe in a special, ritual vessel known as a Voodoo Tiki Bowl or Volcano Bowl.  With meltage from the ice, which is a necessary part of the cocktail for proper  flavoring. this cocktail is approximately 32 ounces.
Volcano bowls are designed with a rising central hub feature usually resembling a crude volcano cone. The cone includes a second, much smaller central pit or "crater" which is partially filled with flammable high-alcohol liquor. The "crater" liquor is then ignited, creating a mild volcanic ambiance with its central blue flame. This central flame can be interpreted as symbolically and subliminally suggesting spiritual or emotional unity among those partaking of the community beverage.
The flaming volcano is usually served to a group of two or more friends with a set of very long colored straws to create a festive atmosphere, to facilitate convenient sipping from a comfortable distance, to prevent regrettable head impacts, and for fire safety, as unintentional hair ignition could result if users bent too near the central flame while drinking.
Ingredients
4 ounces Voodoo Tiki Reposado Tequila
2 ounces brandy
2 ounce Wray & Nephew overproof rum
4 ounces pineapple juice
4 ounces fresh lemon juice
4 ounces orgeat Syrup
 2 ounce coconut simple syrup
Pineapple chunks
Orange quarter slices
Maraschino cherries
Preparation     
Combine all ingredients with 2 scoops of crushed ice in a blender, blend briefly, then pour into the "volcano bowl". Pour some rum into the central crater of the volcano bowl and light it. For garnish score pineapple or orange slices with a knife and insert onto rim of bowl; optionally add maraschino cherries to the main drink.  Add straws.  Ignite Volcano and enjoy.