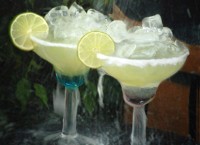 Hey Iron Bar Chefs, are you ready for the ultimate Margarita?
There are many theories as to the "Who" & "Why" of Margarita lore (See Below), but there is no debating fresh ingredients and an Ultra-Premium Tequila like Voodoo Tiki Reposado!  Here's our Ultimate Margarita recipe, as well as the "From Scratch" recipe for handcrafted sour mix
This Voodoo Tiki Classic recipe utilizes all fresh ingredients and Voodoo Tiki Reposado Tequila to create a multi-layered flavorful experience with just the right mix of all the elements that make a perfect margarita.  Take the time to make your own fresh sour mix for your next party – it's worth it.  Friends will want to check your bottle of Voodoo Tiki for the "Magic Word" so don't forget to display your bottle of Voodoo Tiki.  Check out what people are doing with their empty bottles of Voodoo Tiki Here.

Voodoo Tiki Classic Margarita Recipe
2 oz Voodoo Tiki Reposado Tequila
1 oz Lime Juice
½ oz. Agave Syrup
Instructions:  Add ice, tequila, lime juice and agave syrup.  Shake thoroughly.  Strain over fresh ice or into martini glass .
Instructions: Mix water, sugar, and lime zest in a pot and gently heat until all the sugars have dissolved. Turn off the heat and add the remaining ingredients, stirring until dissolved. Strain the mix into a 1 liter bottle.
Want the Recipe to the Amazing Voodoo Tequila Desert RosePrickly Pear Margarita? Click Here.
Origin & Recipes
Legends abound over who invented the margarita and why.  Some even come with a recipe.
Barman "Willie" from Mexico City, 1934 in the employ of the Melguizo Family
Marguerite Hemery lived in the Rio Grande Valley since the 1930s and went to a restaurant in Matamoros called Los Dos Republicas. She was friends with the owner and, as the story goes, his bartender composed a special drink for her.
Danny Negrete, 1936
According to Salvador Negrete, the son of Daniel Negrete, the family story goes that Daniel opened a bar at the Garci Crispo hotel with his brother, David. The day before David's marriage, Daniel presented the margarita as a wedding present to Margarita, his sister-in-law.
It was a combination of one-third Triple Sec, one-third tequila and one-third squeezed Mexican lime juice. The drink was not blended and was served with hand-crushed ice.
Ratios: 1:1:1 (33% tequila, 33% Triple Sec, 33% fresh lime juice).
Danny Herrera, 1938
In Ensenada, Mexico, Danny Herrera, a renowned Mexican bartender who worked at the Riviera del Pacifico Hotel and Casino was completely in love with Marjorie King, an American actress who hated taking tequila pure. Tequila was also the only liquor that her body could tolerate. Thus, with the intention of wooing her, Herrera used his ingenuity to bring together flavors to meet Marjorie's tastes, until he finally found one of the world's most famous drinks.
Rita De La Rosa, 1938
According to Jose Cuervo Margarita Mix, a beautiful showgirl in 1938 named Rita De La Rosa was a bartender and improvised the cocktail.
Don Carlos Orozco, October 1941
He concocted the perfect mixture of equal parts tequila, Damiana (Cointreau is used now) and lime, served over ice in a salt-rimmed glass for Margarita Henkel, daughter of the German Ambassador to Mexico at Hussong's Cantina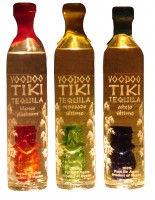 Enrique Bastate Gutierrez, early 1940s
Gutierrez, who lived in Tijuana, Mexico, boasted to have created the Margarita as a homage to actress Rita Hayworth, whose real name was Margarita Cansino.  Other versions of the story claim the Margarita was indeed named after the actress, but in the 1930s, before she adopted her screen name. As a teenager, Margarita Cansino worked as a dancer at the Foreign Club, in Tijuana, where she supposedly inspired a bartender.
Francisco "Pancho" Morales, 4 July 1942
A bartender, Pancho Morales invented the margarita on July 4, 1942, at a Ciudad Juárez bar named Tommy's Place. Supposedly, a woman requested a Magnolia (brandy, Cointreau, and an egg yolk topped with Champagne). Morales was a little fuzzy on the recipe; he improvised and his ersatz creation was a big hit.
Santos Cruz, 1948
According to the promotional flyer for the legendary Balinese Room in Galveston, Texas, head bartender Santos Cruz created the Margarita for singer Peggy (Margaret) Lee in 1948. The Balinese Room was opened in 1941 and was Texas's finest nightclub with A/C, casino gambling, superb food and drinks, and stellar entertainment until the Texas Rangers finally shut it down in 1957.
Margaret Sames, December 1948
Sames, who created the drink at her Acapulco bar, gave the reason of being "close with a lot of famous hotel and restaurant people" in introducing the margarita.  Sames used one part Cointreau, two parts tequila and one part lime juice for her margarita. Knowing that most people drank tequila preceded by a lick of salt, she chose to garnish her cocktail with a rim of coarse salt.  Sames moved to El Paso, Texas in 1958 where she was well known for her lavish parties.
Ratios: 2:1:1 = 4:2:2 (50% tequila, 25% Cointreau, 25% fresh lime juice).
Get All These Recipes and 100 More FREE When You Download our Recipe Guide, 100 Margaritas!