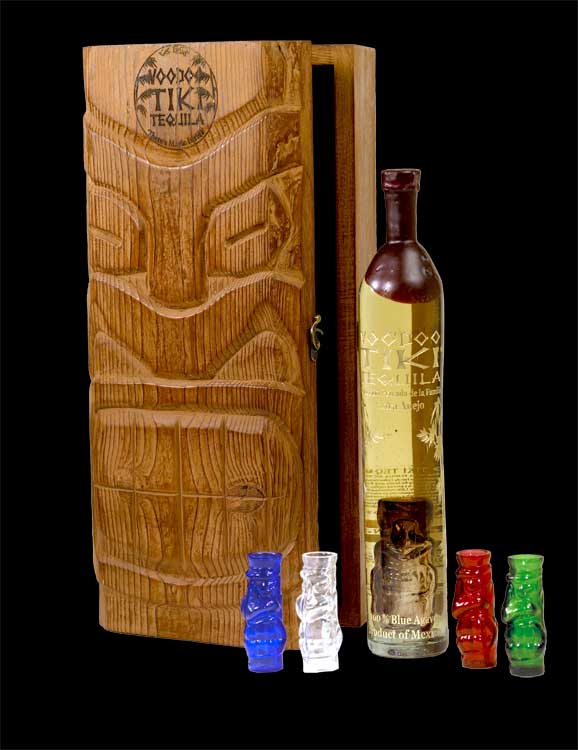 Voodoo Tiki Tequila Colección Privada de La Familia Three 3 Year Anejo Comes Shipped in Hand Carved Voodoo Tiki
Private Family Collection Tequila– Extra Aged (Aged over 3 years.)
This very limited Private Family Collection has been reserved exclusively for family and friends. The handcrafted wooden Tiki box is a precise replica of an original Voodoo Tiki, standing almost 2 feet high and weighs over 9 pounds!
Only 1,000 individuals each year are granted the opportunity to own this cherished collectable, each a unique work of art containing four (4) hand blown glass "Voodoo Tiki Shot Glasses" and 1 Liter of the finest Ultra-Premium 100% Blue Agave tequila in the world.
If you are one of the lucky few to possess this treasure, you'll fully understand why this is one of the most highly sought after tequilas.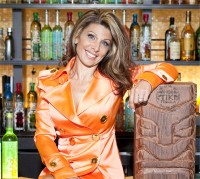 Please Note: Strictly limited to 1,000 numbered bottles.  2008 & 2009 sold out quickly.  Allocations will occur, so please reserve early.
Go to: www.VoodooTiki.com to reserve yours today!
About Voodoo Tiki Tequila
Donna M. DeCunzo-Taddeo came up with the concept of developing a high end Super-Premium  tequila that is smooth, sweet and packaged in a hand-blown Nuramo glass, signed and numbered bottle.  Believing that there would be a mass appeal among tequila drinkers and other spirits enthusiasts, Donna incorporated the company and began to market and sell the brand both Nationally and Internationally. Contracting with US Importer Admiral Imports, Voodoo Tiki is currently available in 23 US states and 11 Countries.
Donna is also Registered and Licensed Dietitian has previously  researched and developed a 12-week weight management program which later became the foundation of the eDiets.com program which she developed in 1996. Donna has maintained high visibility with the press, and has been quoted and interviewed by large media outlets including CNN, NBC, The NY Times, Cosmopolitan, Women's World, and Women's Day.