Congratulations!
Your Diploma has Been Emailed to You.
[wpaudio url="http://www.voodootiki.com/images/Graduation Song.mp3" text="Begin Pomp & Circumstance. Enter johnny Tiki." autoplay="1"]

Ladies and Gentlemen of the class of Voodoo Tiki Tequila
Drink Voodoo Tiki Tequila.
If I could offer you only one tip for the future, Voodoo Tiki Tequila would be it. The long-term benefits of Voodoo Tiki Tequila have been proven by Mexican scientists, whereas the rest of my advice has no basis more reliable than my own meandering experience – most of which has been acquired "Three sheets to the wind." I will dispense this advice now, I recommend you dispense yourself a  Voodoo Tiki Tequila cocktail.  We're going to be a while.
Don't worry about the future. Or worry, but know that worrying is as effective as trying to mix a delicious Prickly Pear Margarita with Prickly Pear Juice of Syrup (You need infused Tequila). The real troubles in your life is running out of Voodoo Tiki Desert Rose Prickly Pear Infused Tequila at 4 p.m. on some wild Tuesday.  Those two models would have done very bad, unspeakable – unlawful in some states – things to you.  If only you had you been better prepared – bone head.
Do one thing every day that scares you.  Ugly people need love too.  Liquid courage might help.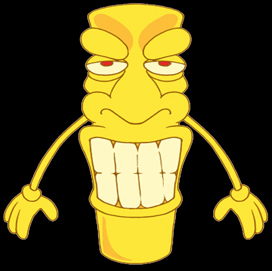 Sing.  Go into a liquor store and start singing.  Tell them you won't stop until they show you were the Voodoo Tiki Tequila is.
Don't waste your time on jealousy.  You're so much better than everyone else,  it's pointless.
Keep your empty Voodoo Tiki Tequila Bottles. Throw away your full other tequila bottles.
Mix Margaritas.
Maybe you'll find Voodoo Tiki in your favorite restaurant, maybe you won't. Maybe you'll get them to carry it, maybe you won't. Maybe you'll celebrate with Voodoo Tiki Tequila, at your 75th wedding anniversary. Whatever you do, don't congratulate yourself too much, it was probably the "Magic Words", which is all the more reason to choose them carefully.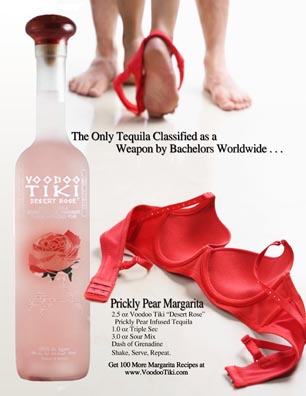 Enjoy your body, but enjoy the bodies of others more, and as often as possible.  Voodoo Tiki Desert Rose Prickly Pear Infused Tequila can be very helpful in this matter.   Use it every way you can. Don't be afraid of it or of what other people think of it. It's the greatest instrument you'll ever own.
Dance, even if you have nowhere to do it but your liquor store.  They like it – trust me.
Read the directions in our margarita guide 100Margaritas!, even if you don't follow them.
Do not drink tequila that is not 100% Blue Agave. It will only make you feel ugly.

Get to know your liquor retailers. You never know when they'll get a shipment of Voodoo Tiki Tequila, and there's rarely enough to go around. Be nice to your siblings so they believe you when you say that you're out of Voodoo Tiki when you're really sitting on a stash.
But trust me on the Voodoo Tiki Tequila.
Plagiarized  by Johnny Tiki