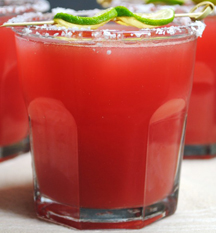 Miss Summer?  Try the Fresh Watermelon Margarita
The natural sweetness of muddled fresh watermelon combines with a clear sweet platinum tequila and fresh agave nectar to create the honey. Tart fresh lime juice balances the formula. Taste is critical mass. You will likely not believe you are sipping two ounces of tequila – until you stand up. This is fruit juice for grownups, and garden refreshing summer season instant classic. Fresh watermelon, fresh lime juice agave nectar and tequila.
Fresh Watermelon Margarita 
2.0 oz Voodoo Tiki Platinum Tequila
1.0   oz Fresh Lime Juice
1/2 oz Agave Nectar
2   1" Cubes Watermelon, muddled
Place watermelon cubes in a mixing glass.  Muddle.  Add ice.  Combine all ingredients and shake. Shake hard to break the ice.  Strain over fresh ice.  Serve ice cold.