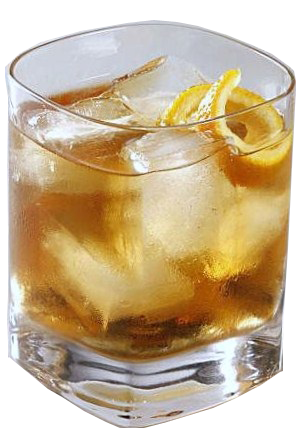 The Old Fashioned is an Official ABA (American Bartender Association) cocktail, created in 1880.  The classic is made by muddling dissolved sugar with bitters then adding alcohol, such as jenever, whiskey or brandy, and a twist of citrus rind.  The name references the combination's age, it is possibly the first drink to be formally called a "Cocktail".  The first documented definition of the word "cocktail" was in response to a reader's letter asking to define the word in the May 6, 1806, issue of The Balance and Columbia Repository in Hudson, New York.  In the May 13, 1806, issue, the paper's editor wrote that it was "A potent concoction of spirits, bitters, water, and sugar."  It was also referred to at the time as a bittered sling."
Way back in 2004 Voodoo Tiki asked the world, "Is tequila the new Vodka?"  The new question seems to be, "Is Extra Anejo Tequila the New Cognac?"
This new classic breaks the code of every tequila snob on the planet by utilizing an Extra Anejo Tequila in a mixed cocktail (Heaven Forbid!)  Pay the tequila Snobberatti no mind.  This is the ultimate $100 cocktail when enjoyed with Voodoo Tiki Tequila Coleccion Privada de la Familia.
Looking for the recipe for homemade Falernum?  Check it out here with this other amazing anejo tequila cocktail Muertos Vivientes.
Enjoy.
OLD-FASHIONED'S NEW TWIST
2 oz Voodoo Tiki Extra Anejo Tequila
½ oz Falernum
1 teaspoon amber agave nectar
Dash of Angostura bitters
Orange twist.
Combine liquid ingredients in a cocktail shaker filled with ice. Stir well, then strain into a rocks glass filled with ice cubes. Garnish with the orange twist.
A similar recipe created at the amazing Death & Co. in NYC features a "Flamed Peel", this might take a bit of practice.  Start by holding a section of peel with the skin side down and grab it between your thumb and forefinger.  Hold it a few inches above the cocktail, and just above the cocktail place a flame such as a light or match. Squeeze the orange peel quickly, expelling the peel's oil into the flame, where it will burst in a flash onto the surface of the cocktail.  This may take some practice, but once you get it down you can amaze your friends.