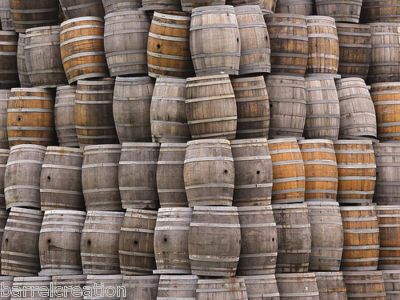 Do Brand New French Barrels Produce the Best Anejo Tequila?
Companies employ Brand new French barrels because it would make the tequila better? – Patently False.
Aged tequila requires barrels.  By law a reposado tequila must spend at least two months, but not more than 364 days (under one year) in a barrel.  For anejo tequila, the tequila must spend a minimum of one year, but not more than three years in the barrel.  Finally for Extra Anejo tequila, the tequila must be in the barrel for at least three years.
Previously used barrels such as whiskey, bourbon or brandy barrels are  most often used to add additional flavor and nuances, yet what if there are not any used barrels existing.  A handful of tequila firms are choosing to buy and market brand new barrels. This isn't the norm, and yet because of the difficulty of finding previously used barrels for top of the range aging processes, these are popping up with greater regularity.
The majority of producers buy previously utilized whiskey barrels for aging anejo tequila.  These are more desirable than brand new wood barrels considering that brand new barrels will convey significantly more real wood flavor into the tequila which may affect the quality vastly  New barrels have traditionally been more pricey than used barrels ($300-$400 each), although as demand soars for the finest anejo tequila the tide is turning on this tradition.   New barrels also tend to make the anejo, and especially the extra anejo tequila much darker, but despite what many believe, darker doesn't signify better.  In fact in many cases it could mean worse!   Anejo tequila, may fairly quickly become very dark and have too much wood taste. This could potentially be averted through older previously used barrels which aren't as liable to infuse the tequila as much, which is another reasons that previously used barrels are in much greater demand.
The most up-to-date buzz words in promotional  material, marketing and advertising is to boast that your tequila is aged in white French oak, however is white French Oak the very best?  The answer depends upon the flavor profile that the label is going for.  Barrel choice is based on the hunt for flavor. American oak whiskey barrels basically develop a sweeter  anejo tequila in contrast to anejo tequila aged in white French oak.
So which is best? You'll hear a lot of marketing talk, but the honest answer is that it depends on your taste.  For the sweetest anejo tequila you're probably looking for American whiskey barrels and Brandy or Cognac barrels.
Time might also play a major factor in flavoring profile. Some of the greatest Tequila "Maestros" when given blind taste tests have erroneously mistaken shorter aged anejo tequila within a distinct barrel for more aging in some other.  Barrel selection plays a major role in aged tequila flavor, and the consensus is generally that previously utilized is better and in greater demand than new.
Be especially wary of complex flavors outside of "Wood" on tequilas which advertise brand new barrels, as they very well may be acquiring their other complex flavorings by the use of additives such as essences!
Of course, we would never use essences.
Voodoo Tiki Tequila is a Single Barrel Tequila (We use a previously used barrel one time to extract the maximum amount of complex flavors.)  We age in a proprietary  combination of previously utilized American Whiskey barrels and white french oak brandy barrels.
We could tell you more but then we'd have to kill you.