The Voodoo Crew made a secret visit to New York City's famed Death & Company, where Voodoo Tiki creator John Taddeo ordered a cocktail created by Joaquin Simo called The Dolores Park Swizzle. The mixture combined añejo tequila, amontillado sherry, lime, ginger and velvet falernum. It's more than exceptional, it's an intricate explosion of flavor.  It's served in a pilsner or highball glass with crushed ice. An anejo with notes of vanilla, caramel or butterscotch works best with this exceptional and mind numbing creation. Flavor is impressive.  We loved it so much we started mixing our version immediately upon returning home, and had to share the recipe.  This is not Death & Company's exact recipe, as we felt it rude to ask, but it's equally as delicious.  Enjoy!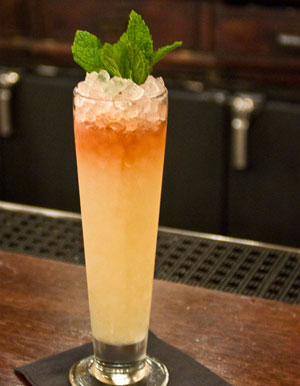 Dolores Park Swizzle
1.5 oz Voodoo Tiki Añejo Tequila
1/2 oz Amontillado Sherry
3/4 oz Ginger Syrup
3/4 oz Fresh Lime Juice
1/2 oz Velvet Falernum (Click for the Recipe)
4 dashes Aromatic Bitters
Garnish with mint
Combine all ingredients except bitters, in a mixing tin and  shake without ice.Fill a 12 oz Pilsner glass with crushed ice and pour the mix  into the glass / over the ice. Swizzle cold. Top with dashes of Angostura bitters. Garnish with mint.