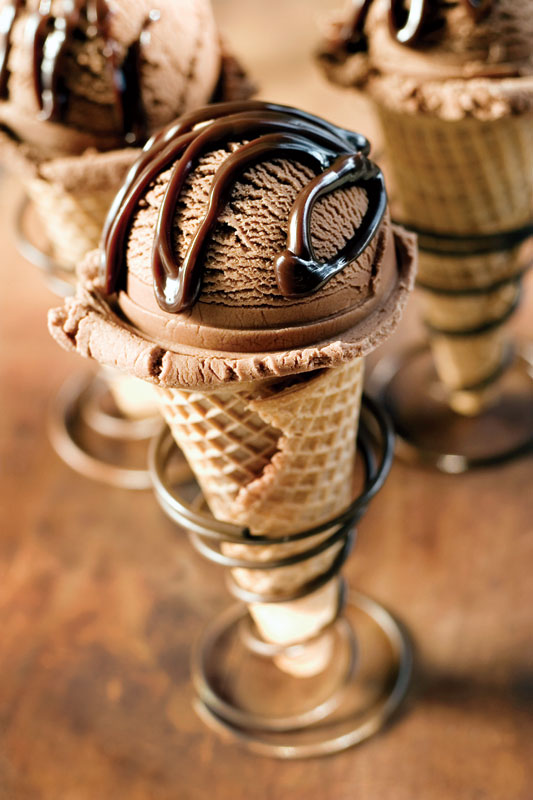 Decadent Dark Chocolate Tequila Ice Cream

Sounds incredible, tastes even better.  Serve it in mini cones purchasable in your local supermarket, or you can make the cones with a waffle cone maker.
For a double chocolate masterpiece, use the chocolate tequila ice cream as a side car on a dark chocolate tequila shot.
Ice Cream
Ingredients:
• 3 cups of milk
• 3 cups of cream
• 1 & 1/2 cups of sugar
• 10 egg yolks
• 1 tablespoon vanilla extract
• 8 oz. melted bittersweet chocolate
• 1/2 cup Voodoo Tiki Reposado Tequila
Directions:
Heat the milk and cream to simmering point in a saucepan. Combine the egg yolks and sugar in bowl. Stir the hot milk and cream into the egg mixture and return it to the saucepan. Place the saucepan over low heat and stir until the mixture thickens into a light custard. Remove from the heat. Add tequila and melted chocolate. Stir in the vanilla extract. Cool the mixture to room temperature, then chill. Freeze in your ice cream maker according to the manufacturer's instructions.
Dark Chocolate Tequila
1 oz Torino Chocolate Milan Syrup
2 oz Voodoo Tiki Platinum Tequila
1 Jalapeno Pepper
Directions:
Combine Torino Chocolate Milan Syrup and Voodoo Tiki Platinum Tequila over ice.  Slice jalapeno, remove seeds.  Use one narrow slice for a touch of heat.  Add the one narrow slice to the ingredients and ice and shake vigorously to break the ice.  Jalapeno size will adjust the heat, so keep jalapeno slice very small.  You want just a touch of heat.