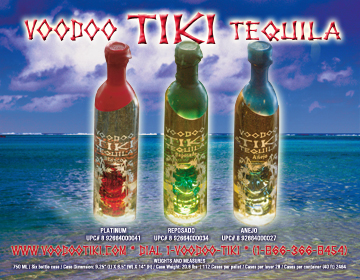 Tequila is already the fast growing segment of the distilled spirits industry, appealing to more 20 to 55 year olds than any other time in history. Premium "Boutique" style tequilas, often produced at significant cost and lower profit margins than the large mass produced "Chain Brands," have become all the rage! In many cases the supply is far outstripped by the demand which has resulted in a Tequila Collectors Market.
"Collecting has become another fun aspect of the overall hobby," said John Taddeo, Voodoo Tiki Tequila creator & Chairman Emeritus. "Tequila fans and aficionados have become like the Indiana Jones of distilled spirits often visiting many locations weekly to look for the latest arrivals. New products such as our Voodoo Tiki Tequila have enjoyed brisk sales, often selling out within a few days of arrival. I bet the shops and bars that pay strong attention to new and interesting products are doing very well with boutique brand like Voodoo Tiki."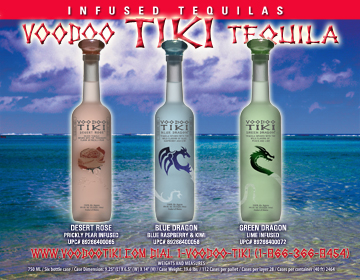 One such location is 67 Liquors in Deerfield Beach Florida. Owner Joe Zemel was one of the first off premise stores to carry the brand in the south Florida area and reports brisk sales.
"Tequila has been red hot at 67 Liquors and we offer a tremendous selection," said Zemel. "Voodoo Tiki is one of our hottest sellers and sales continue to rise. Multiple bottle purchases have become very common leading us to believe a collector market has developed."
Voodoo Tiki Tequila is supplied in colorful, eye-catching bottles which are hand made by Taddeo's long time personal friend – Glass artist Alehandro Nuramo. Each bottle contains an actual glass Voodoo Tiki and is hand signed and numbered for authenticity. The labels are etched into the glass, not silkscreened of "stickered." In addition, every bottle is labeled with one of hundreds of possible "Magic Words." Consumers can learn more about Voodoo Tiki magic words by registering their bottle online at www.VoodooTiki.com.
However, popular packaging will only take a brand so far. First and foremost the tequila must hold up to consumers well educated and discriminating palates.
"Raw materials and production cost us nearly five times the cost of the well advertised Sacred Cow brands. I knew if I was going to give fellow tequila lovers a beautiful package, that the tequila must be ultra-premium and equally as impressive," said Taddeo. "Sell through has been incredible and shops are reporting returning customers, and heavy reorders."
Consumers can learn more about Voodoo Tiki, as well as get a personalized Tequila University Diploma at the website at www.VoodooTiki.com. An animated movie which tells the Legend of the Voodoo Tiki's and a second video of how the bottles are made is also online at the Voodoo Tiki Tequila website.
About Voodoo Tiki Tequila
Voodoo Tiki offers ultra-premium traditional & infused tequilas made from 100% Blue Agave. Voodoo Tiki Tequilas are sold exclusively in select restaurant, bar, nightclub and off premise locations through the company's "Select Retailer" program. Retailers that would like to carry Voodoo Tiki Tequilas should call 1-Voodoo-Tiki (1-866-366-8454). Press inquiries should be directed to Press@VoodooTiki.com. Fans visit www.VoodooTiki.com to get your Free Official Voodoo Tiki Tequila TRIBE Dog Tags by mail.