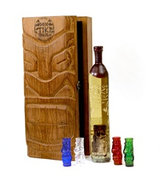 Voodoo Tiki's very limited Coleccion Privada de la Familia Extra Anejo has been awarded a silver medal by Tequila.net.  The 94 point average (out of a possible 100) summarizes the reviewers thoughts as, "Outstanding.  A Must Have."
Voodoo Tiki Tequila – Coleccion Privada de la Familia Extra Anejo 2010
Voodoo Tiki Tequila Extra Anejo is 100% Agave and aged for three years in French white oak brandy barrels. This Voodoo Tiki Private Family Collection offering is a hand blown bottle and glass Tiki head, and contains one liter of Extra Anejo Tequila.

The handcrafted wooden Tiki box is a precise replica of an original Voodoo Tiki, which stands almost 2 feet tall and weighs over 9 pounds! The interior is pre-lit and illuminates when opened, and contains 4 glass tiki shot glasses. Only 1,000 bottles of this collectible are produced each year. Each bottle is signed and numbered.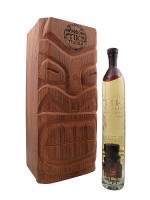 Voodoo Tiki Extra Anejo * Tasted August 2009 * Riedel Tequila Glass
Appearance: medium straw, golden hues – thick body and slow tears
Aroma: cooked agave, hints of butter, apple & berries
Initial Taste: agave, light oak & citrus
Spirit Body: light agave flavor, mild chocolate & mint
Finish / Aftertaste: spicy, light oak & vanilla
Voodoo Tiki's Extra Anejo is packed with rich Agave flavors throughout, buttery – spiced citrus, and an exceptional finish of chocolate, mint and vanilla. A true luxury spirit with unique packaging.