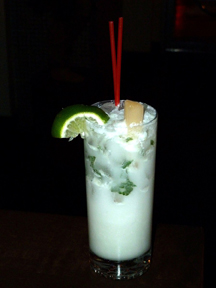 Coconut Tequila Mojito
2 oz Voodoo Tiki Platinum Coconut Infused Tequila
2 chunks of Pineapple
Fresh mint
1 oz Lime Juice
.5 oz coconut simple syrup
Muddle the pineapple and mint in a highball glass.  Combine Voodoo Tiki Platinum Coconut Infused Tequila, lime juice and coconut simple syrup in a mixing glass with ice.  Shake well to break the ice.  Ice the highball glass.  Strain mixing glass into the iced highball glass.  Garnish with coconut strips and mint leaves.
Coconut Simple Syrup
Although delicious in the Coconut Tequila Mojito, coconut simple syrup is also a perfect flavoring for cold drinks – like a coconut coke, sweetening iced teas and coffees, candying fruits or even as a moistening topper for sponge cakes.  It can also used for making old-fashioned rock candy.
1 cup of sugar
1 cup of water
2 teaspoons of coconut extract
Store the cooled syrup in a tight lid container or jar that can be stored in the refrigerator. Coconut simple syrup can be stored for up to one month.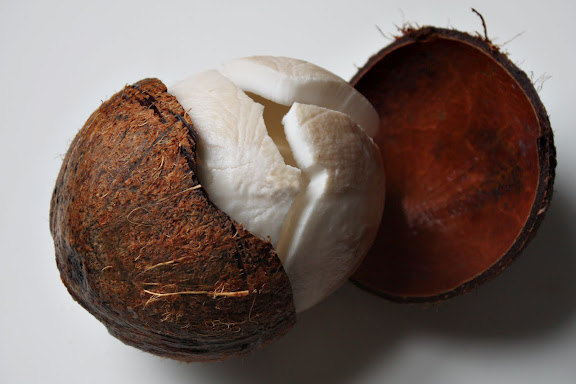 Coconut Infused Tequila
2 Coconuts
1 Bottle Voodoo Tiki Platinum Tequila
30 days of Infusion Time
Preheat oven to 375 degrees.  Crack the coconut open, and bake for 15 minutes.  This will dry the shell, which will make it easier for the coconut meat to be separated from the shell. Remove from oven and let stand 15 minutes to cool.
Remove all the meat from the coconuts and finely chop creating as much surface area of coconut as possible.  Place the contents in an infusion jar.  Fill with Voodoo Tiki Platinum Tequila.  Tighten jar and store in a cool dry place.  Shake daily for 30 days.
After 30 days, strain through a coffee filter.  Pour back into the Voodoo Tiki Bottle for storage.  Store cold.