Voodoo Tiki Tequila and Holiday Wine Cellar entered into an agreement to make Voodoo Tiki Traditional and Infused Tequilas available at the landmark wine and spirits retailer.  Voodoo Tiki Platinum, Reposado, Anejo, and the smash hit Desert Rose Prickly Pear Infused Tequila are available now. Holiday Wine Cellar will also be one of the first venues in the nation to receive the brand new Blue Dragon Blue Raspberry and Kiwi Infused tequila.
Holiday Wine Cellar has been providing exceptional quality wines, spirits and beers in their landmark store in Escondido, California since 1965. They feature an extensive selection of quality wines, tequila, scotch whiskey and other spirits, including rare and hard to find brands.  Holiday Wine Cellar also features a major online presence, allowing customers a convenient and time saving option for ordering wine & spirits online. They ship domestically and internationally.
"Holiday Wine Cellar will be an amazing partner for Voodoo Tiki Tequila because they can ship to fans worldwide", said Jennifer Serle VP Corporate Communications.  "We get calls daily from states and countries where Voodoo Tiki is not yet available.  Now these fans can get their favorite tequila delivered to their door."
Voodoo Tiki Tequila is boutique brand of ultra premium traditional and infused tequila.  The company's newest exciting feature is Voodoo Tiki Desert Rose Prickly Pear Infused tequila, which is used to make their signature Desert Rose Prickly Pear Margarita.  All Voodoo Tiki Tequila is 100% blue agave and all natural with no additives, preservatives or artificial color.  The award winning and highly rated product is very limited in production.  Due to the limited nature of true craft tequila, and to ensure availability to existing accounts, the company adds only a select 300 new retail accounts per year.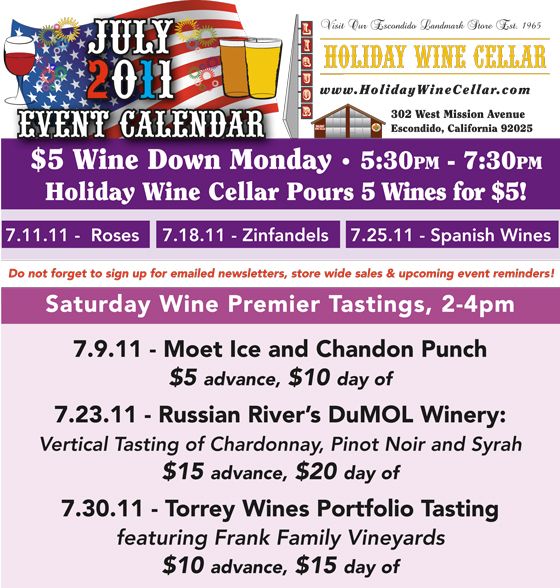 Holiday Wine Cellar will feature Voodoo Tiki Tequila Platinum, Silver and Anejo as well as the world famous Desert Rose Prickly Pear Margarita. Holiday Wine Cellar is located at 302 West Mission Ave., Escondido, CA 92025.  Phone 760-745-1200,   or visit them online at http://www.holidaywinecellar.com or follow them on Twitter at /HWC1965
About Voodoo Tiki Tequila
Voodoo Tiki Tequila is a small batch boutique tequila company which produces 100% blue agave, all natural ultra-premium traditional and infused tequilas in artisan glass. Careful agave selection, slow cooking, fermentation, distillation processes lead to the sweet, "No Burn" profile that has become the Voodoo Tiki trademark tequila experience. Voodoo Tiki Tequilas are available in 11 states and 7 countries and are sold exclusively in select restaurant, bar, nightclub and off premise locations through the company's "Select Retailer" program. Retailers that would like to carry Voodoo Tiki Tequilas should call 1-Voodoo-Tiki (1-866-366-8454) for an application. Press inquiries should be directed to Press@VoodooTiki.com. Fans visit www.VoodooTiki.com to get your Free Official Voodoo Tiki Tequila TRIBE Dog Tags by mail.