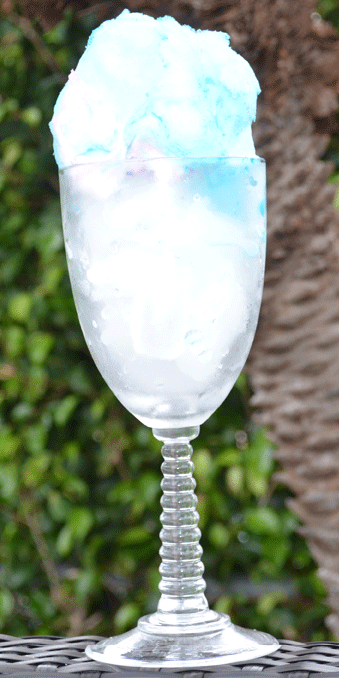 Voodoo Tiki Carnival Cotton Candy
We know once you tasted the debacle that Jose Cuervo dared to call "Flavored Tequila" you swore off flavored and infused tequila forever, but let us show you why you shouldn't rush to judgement.  The "Carnival Cotton Candy" will win you back and make a believer out of you.
We even tested it on añejo sippers.  If anyone was going to condemn a Cotton Candy inspired cocktail it would be them, but the response was actually quite positive.  The most common response was, "I wouldn't order more than one, but my wife/girlfriend would love this."   One añejo sipper even emailed back, "I was right, the girlfriend loved it.  Thank you.  No really.  Thank you."
You're welcome, and we hear you loud and clear.  Just please . . .well, let's just say let's not start that again.
The first thing you'll notice is the aroma of cotton candy from the combination of 100% blue agave, all natural Blue Dragon Blue Raspberry and Kiwi Infused Tequila and real cotton candy.  The presentation featuring two glasses, and the guest getting to pour the cocktail over Cotton Candy and ice is a fun and visually appealing touch.
Now the cocktail is certainly sweet – It has "Cotton Candy" in the name – but this is not a cheap tequila masked with flavor.   This is ultra premium Voodoo Tiki Infused Tequila 100% Blue Agave, all natural with no artificial colors.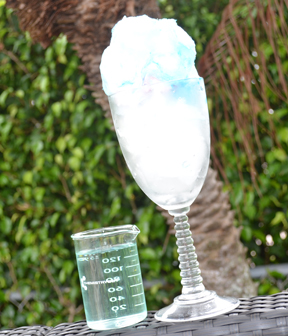 The smell aids to the ability to capture the cotton candy sensibility in your mouth, which when the liquid hits your lips you will feel as if you are eating liquid Cotton Candy.  It's a but surreal, and you do get images of carnival days.  Those with a distaste for sweet beverages need not continue, but thanks for being open minded to sampling.
The initial taste is very smooth and very sweet, only sweet and raspberry taste and the trademark Voodoo Tiki Tequila finish – absolutely no burn, and no heat.   Drink and repeat.
Purists can make all the fun they want, as a few "Sacred Cow" tequila snobs will inevitably turn up their nose, but the truth is this cocktail is truly amazing, and it'll be  smash hit with the ladies at your next party or a great answer to the inevitable cocktail question, "What Should I Drink?" If they love sweet cocktails, this one is both taste and eye appealing.  It's so popular among the ladies that some bars have coined it the Cotton Candy Cosmo.  Mix up a few for some sweet summery or Fall Halloween fun.
PS – Insanely dangerous rides and fixed carnival games optional.
Voodoo Tiki Carnival Cotton Candy
1.5 oz Voodoo Tiki Blue Dragon Blue Raspberry and Kiwi Infused Tequila
1 oz Vanilla Syrup
1.5 oz Club Soda
1/2 Cup by Volume Cotton Candy

Combine the liquid ingredients in a small cocktail shaker and stir – do not shake – stir gently so as not to lose the carbonation.  Fill a bowl glass, such as a red wine glass with ice, leaving about a 1/2 inch at the top for the cotton candy, which should be placed above the rim of the glass as pictured.  Otion: Include a straw down the center to appear like a cotton candy stick (Although as I remember it was a paper cone).  Serve in two glasses allowing the recipient to pour the liquids over the cotton candy and ice. 

Love the Carnival Cotton Candy Cocktail?  Check out these two Voodoo Tiki new classics.  The Desert Rose Prickly Pear Margarita, is the cocktail that made Voodoo Tiki ask fans, "Please Stop Sending Us Your Panties."  The Blue Kiwi Margarita makes girls do very bad things to boys.  Try them!