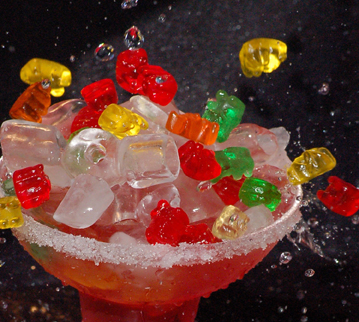 Candy "Bar" Recipes Hot Commodity at "Retro" Parties!
Remember the days of Fun Dips, Astro Pops, Wax Lips, Necco Wafers and the Pop Rocks that killed poor Mikey? (Relax, he's actually still alive.)
You might have to grow older, but you never have to grow up!  Who says Ultra-Premium has to be stoic, old and serious?!
Turn on Friday Night Videos and mix up t his party sweet margarita!  It's fun and carefree, and really tastes like the original Red Raspberry Gummi Bears by Hairibo – mix in real Gummi Bears and watch your guests' eyes pop out of their heads!
Get 100 More Sexy & Delicious Margarita recipes – from mild to wild – in the free Voodoo Tiki Tequila Recipe Guide 100 Margaritas!  It's Free!

Ingredients:
1.5 oz Voodoo Tiki Blue Dragon Blue Raspberry and Kiwi Infused Tequila
1 oz Watermelon Pucker
1/2 oz Triple Sec
1 oz Sour Mix
1 oz Cranberry Juice
Dash of Grenadine
Directions:
Combine all ingredients and Shake.  Serveon the rocks or up. Garnish with sugar coated lime wheel and Gummi Bears
Rim: Sugar or Salt
PS – Be on the lookout for Voodoo Tiki Tequila's Blue Dragon Blue raspberry and Kiwi Infused Tequila in her all new packaging!