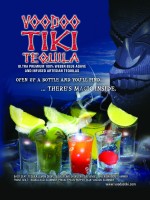 The dog days of summer had the band members of Fallz looking for a cool place to hang out after what seemed an unusually long work week. Deciding to swing by Swig Bartini, they found a friend in bartender/mixologist extraordinaire "Brucifer" who mixed up some Voodoo Tiki magic! Just what the doc, er "witch doctor", that is –ordered.
Some say the magic inside Voodoo Tiki has to do with the legend, others say it is the high quality blue agaves they've chosen from the highlands of Jalisco, Mexico, whatever it is, it must be magic because these drinks quickly disappear before your eyes! Swing by Swig and ask Brucifer to hook you up with some Voodoo Tiki Magic. Try either of these potent potions:
Blue Voodoo Doll
1 1/4 oz Voodoo Tiki Blue Dragon (Blue Kiwi)
1/2 oz Blue Curacao
2 oz Sour Mix
Splash Cranberry
Shake
Sugar Rim
Garnish w/ Orange Slice
Tiki's Revenge
1 1/4 oz Voodoo Tiki  Desert Rose (Prickly Pear)
3/4 oz Melon Liquer (Midori)
2 oz Sour Mix
1 oz Mango Juice
Skake
Garnish with Strawberry
Do you have some magic you'd like to mix up? Send your drink ideas using Voodoo Tiki tequila to: VoodootikiPR@aol.com along with a picture of you mixing it up and Voodoo Tiki will feature you on their very heavy trafficked website!
###
Brucifer (Bruce Figueroa) also known as "The Most Electrifying Bartender in Sports Entertainment" mixes his magic at Swig Bartini. Located at 1744 Main Street in Weston, Florida. www.swigbartini.com
Fallz's first demo attracted the attention of entertainment industry heavy hitters like MTV, Tekademics, Superverse, and Herrera Productions (Fear Factory).  Fallz music was featured on MTV Power Girls, the Mischief Invasion and Mischief Dynasty street racing CD soundtracks by Teckademics, and is the featured band for Zoom Suit comics.  Fallz is now working with European electro music producer, Robert Collado, whose past productions have reached #1 on the UK dance charts. www.Fallz.com
About Voodoo Tiki
Based in Boca Raton, Florida, Voodoo Tiki offers a full range of high-concept, high-quality tequila blends each made from 100% Blue Agave plants aged anywhere from 8-12 years, and bottled in Mexico as set forth by Mexican Law. The Tequila Factory is located in Anrandas, Mexico, in the state of Jalisco, Mexico and the Corporate headquarters are in Boca Raton, Florida.    Voodoo Tiki offers tequilas that suit every need and taste, from the occasional tequila drinker to hard-core traditionalists and connoisseurs. First to offer ten flavor-infused tequilas including Prickly Pear, Lime and Blue Kiwi.     The company can be reached via toll-free telephone at 1-VoodooTiki (866-366-8454), via email at VoodooTikiPR@aol.com or through its Web site at www.voodootiki.com